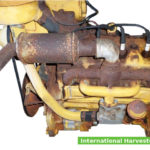 The International Harvester C-60 is a 1.0 L (975 cc, 59.5 cu·in) natural aspirated four-stroke water-cooled internal combustion small gasoline engine with a horizontal shaft, manufactured by International Harvester for general-purpose applications.
It has a 67.0 mm (2.64 in) cylinder bore and 70.0 mm (2.76 in) piston stroke. The compression ratio rating is 7.5:1.
The International Harvester C60 engine produced from 14.1 PS (10.4 KW; 14.0 HP) to 18.2 PS (13.4 KW; 18.0 HP) of maximum output power.
The IH C-60 used:
Counterbalanced crankshaft with 3 main bearings
I-Beam type connecting rods
Aluminum alloy pistons
Full floating piston pins
Two compression and single oil ring
General information
Engine Specifications
Engine model
C-60
Engine type
4-stroke, DOHC,
Displacement
975 cm3, (59.5 cu·in)
Max. horsepower
18.2 PS (13.4 KW; 18.0 HP)
Max. torque
–
Cooling system
Water
Lubricating system
Forced
Fuel system
Carburetor
Fuel used
Unleaded gasoline (octane number 86 or higher)
Starting system
Electric starter
Dimensions (L x W X H)
–
Dry weight
–
Cylinder Block and Head
Cylinder block
Compression ratio:
7.5:1
Cylinder bore:
67.0 mm (2.64 in)
Piston stroke:
70.0 mm (2.76 in)
Cylinder internal diameter (standard):
66.6700-66.7560 mm (2.6248-2.6282 in)
Piston skirt outer diameter (standard):
66.6242-66.6344 mm (2.623-2.6234 in)
Number of piston rings (compression / oil):
2/1
Side clearance (Top):
0.050-0.090 mm (0.002-0.0035 in)
Side clearance (Second):
0.050-0.100 mm (0.002-0.0039 in)
Side clearance (Oil):
0.040-0.075 mm (0.0016-0.003 in)
Ring end gap (Top):
0.180-0.430 mm (0.0071-0.0169 in)
Ring end gap (Second):
0.180-0.430 mm (0.0071-0.0169 in)
Number of main bearings:
3
Crankshaft main journal diameter:
41.225-41.250 mm (1.623-1.624 in)
Crankpin journal diameter:
38.050-38.075 mm (1.498-1.499 in)
Crankshaft center distance:
35 mm (1.38 in)
Cylinder head
Valve arrangement:
–
Valves:
2 (8 valves in total)
Valve head diameter (INTAKE):
27.6600-27.9145 mm (1.089-1.099 in)
Valve head diameter (EXHAUST):
22.8855-23.1395 mm (0.901-0.911 in)
Valve steam diameter (INTAKE):
7.8615-7.8865 mm (0.3095-0.3105 in)
Valve steam diameter (EXHAUST):
7.8615-7.8865 mm (0.3095-0.3105 in)
Valve spring free length (INTAKE):
50.0 mm (1.9685 in)
Valve spring free length (EXHAUST):
36.5 mm (1.437 in)
Camshaft journal diameter (front) :
47.5234-47.5488 mm (1.871-1.872 in)
Camshaft journal diameter (center):
44.3484-44.3738 mm (1.746-1.747 in)
Camshaft journal diameter (rear):
22.1995-22.2375 mm (0.8740-0.8755 in)
Service Data
Engine
Maximum speed:
2,420-2,510 rpm
Cylinder compression:
9.0 bar (190 psi)
Valve clearance
Intake valve clearance (COLD):
0.40 mm (0.0157 in)
Exhaust valve clearance (COLD):
0.40 mm (0.0157 in)
Oil capacity:
2.8 L (2.96 US. qt, 2.46 Imp. qt.)
Oil presure:
2.07 bar (30.0 psi) at 2,200 rpm
Ignition system
Ignition timing:
16° B.T.D.C
Spark plug gap:
0.6 mm (0.0236 in)