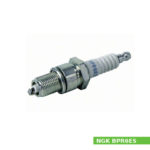 The NGK BPR6ES is a spark plug with an alumina ceramic insulator and nickel made center and ground electrode.
This spark plug has corrugated ribs, triple gasket seal, copper core for more effective heat removal, a 21 mm (13/16 inches) hex size, and 0.9 mm (0.035 inches) gap.
The BPR6ES spark plug manufactured by Japanese company NGK mainly for general-purpose engines (Honda, Briggs & Stratton, Raven brands).
General informational
Specifications
Spark plug model
BPR6ES
Thread size
14.0 mm (0.55 in)
Thread pitch
1.25 mm (0.050 in)
Reach
19.0 mm (0.75 in)
HEX size
21.0 mm (0.826 in)
Seat type
Gasket
Resistor
Yes
Resistor value
5 KΩ
Terminal type
Removable nut
Overall height
JIS
Torque specs
Cast Iron: 25-35 Nm (2.5-3.5 kg·m; 18.4-25.2 ft·lb)
Aluminum: 25-29 Nm (2.5-3.0 kg·m; 18.4-21.6 ft·lb)
Gap
0.9 mm (0.035 in)
Longevity
48,000 km (30,000 miles)
Center Electrode
Material
Nickel
Type
Standard
Size
2.5 mm (0.098 in)
Projection
Projected
Equivalents and alternatives
AC Delco
4, 41-601, 41804, 43XLS, AC4, CR42CXLS, CR43CXLS, R42CXLS, R42XLS, R43CXLS, R43XLS
Accel
194, 494
Autolite
3203, 3204, 4163, 4263, 63, 64, XS63
Beru
0002335701, 0002340701, 14-6D, 14R-6D, 14R-6DU, 14R-7D, 14R-7DU, 14R6DU, 14R7DU, 2335701, 2340701, UXT2, UXT6, Z20, Z27
Bosch
0 241 235 099, 0 242 235 511, 0 242 235 529, 0 242 235 537, 0 242 235 630, 0 242 235 663, 0 242 235 909, 0 242 240 511, 0 242 240 579, 0 242 240 592, 0 242 240 849, +1, +12, F000KE0P16, F000KE0P34, W175TR30, W200TR30, W6DC, W7DC, W7DCR, WR5D+, WR6D, WR6D+, WR6DC, WR6DC+, WR6DP, WR7D, WR7D+, WR7DC, WR7DC+, WR7DC2, WR7DP, WR8DC4, STK7500, STK7501, STK7594, STK7595
Brisk
0023, 1314, 1332, 77-312-1, L15YC, LR15TC, LR15YC, LR15Z
Champion
2332, 415, 8415, 9FYSR, EON5, OE004, OE004/R04, OE004/T10, OE006, OE006/R04, OE006/T1, OE006T10, OE111, RN10Y, RN10YC, RN11YC4, RN7YC, RN9Y, RN9YC, RN9YCC,
RN9YX, STK322, STK332
Daihatsu
90048-51095-000, 90048-51096-000, 90048-51043-000
Denso
3047, 3344, 5306, D2, IW20, VW20, W20EPR, W20EPR-U, W20EXR-U, W20TT, STK3047
Fiat
1L4J, 5984036, 71711639, 71711640, 71711806, 7554444, 7760382, 9FYSSR
General Motors
25164642, 5613100, 5613790
Hitachi
RL45PW, RL45PX
Honda
3191W-Z0M-5600, 89839-99010, 98079-56846, 98079-56855, 98079-56876-H0
Isuzu
8-94219-943-0
Kawasaki
E92070-1025, J4520W20EPRU
Magneti Marelli
061830211304, 062000740304, 062110390312, 062130011312, CT6FMR, CW78LPR, CW7LPR, F7LCR
Mazda
0000-18-1690, 1690-18-110, 1Y01-18-110
Mazda
0000-18-1690, 1690-18-110, 1Y01-18-110
Mitsubishi
M05269556, MS 851 218, MS 851 233, MS 851 236, MS 851 413, Z2 152 945
Motorcraft
1Y01, AGR22, AGR22C, AGR22CU, AGR32, AGR32C, AGR32CU, AGS22C, AGS32C, STK2, STK36
NGK
STK7131
Nissan
22401-V1416, 22401-V1486-PC, 22401-V1491, 22401-W9816, B2401-V1416, S2100, V1416
Opel
90 239 568, 90 355 136
Subaru
22401-AA220, 22401-KA130
Torch
F6RTC
Toyota
90098-20325, 90098-20745, 90098-70033, 90098-70058
Volvo
13 06 604, 13 06 605, 13 67 528, 13 67 529
Yamaha
94700-00234, 94701-00234, 94702-00234, 94703-00234
Yanmar
160693-78010