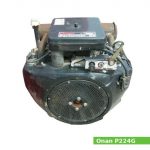 The Onan P224G is a 983 cc, (60.0 cu·in) natural aspirated two-cylinders four-stroke air-cooled internal combustion small gasoline engine with a horizontal shaft, manufactured by Onan for general-purpose applications.
The cylinder bore is 90.4 mm (3.56 in) and the piston stroke is 76.2 mm (3.00 in). The compression ratio rating is 7.0:1.
The Onan P224G engine produced 24.3 PS (17.9 kW; 24.0 HP) at 3,600 rpm of maximum output power.
The Onan P224G features:
L-haed design
Electronic battery ignition system
Carburetor with fixed main jet
Centrifugal governor
Full pressure with oil filter lubrication system
Forced air cooling system
Electric starter 12V
General information
Engine Specifications
Engine model
P224G Performer 24
Engine type
4-stroke, L-head, two-cylinders
Displacement
983 cm3, (60.0 cu·in)
Max. horsepower
24.3 PS (17.9 kW; 24.0 HP) at 3,600 rpm
Cooling system
Forced air
Lubricating system
Full pressure with oil filter
Ignition system
Electronic battery
Fuel system
Carburetor with fixed main jet
Fuel used
Unleaded gasoline (octane number 86 or higher)
Starting system
Electric starter 12V
Stoping system
Ignition primary circuit ground
Governor
Centrifugal governor
Charging system
Flywheel alternator
PTO shaft rotation
Counterclockwise (from PTO shaft side)
Cylinder Block and Head
Cylinder block
Compression ratio:
7.0:1
Cylinder bore:
90.4 mm (3.56 in)
Piston stroke:
76.2 mm (3.00 in)
Cylinder internal diameter (standard):
90.510-90.490 mm (3.5634-3.5626 in)
Number of piston rings (compression / oil):
2/1
Connecting rod big end diameter (standard):
44.460-44.480 mm (1.7504-1.7512 in)
Connecting rod small end diameter (standard):
19.060-19.070 mm (0.7504-0.7508 in)
Piston pin diameter:
19.060-19.070 mm (0.7504-0.7508 in)
Ring Groove Clearance (Top):
0.076-0.203 mm (0.003-0.008 in)
Ring End Gap in Cylinder Clearance:
0.254-0.508 mm (0.010-0.020 in)
Crankshaft Main Bearing Journal Diameter:
50.800-50.780 mm (2.0000-1.9992 in)
Crankpin journal diameter:
41.300-41.280 mm (1.6260-1.6252 in)
Crankshaft center distance:
33.275 mm (1.31 in)
Cylinder head
Valve arrangement:
L-head, gear driven
Valves:
4,(2 valves in total)
Valve steam diameter (INTAKE):
8.700-8.712 mm (0.3425-0.343 in)
Valve steam diameter (EXHAUST):
8.661-8.687 mm (0.341-0.342 in)
Valve Clearance Stem-to-Guide (INTAKE):
0.025-0.064 mm (0.0010-0.0025 in)
Valve Clearance Stem-to-Guide (EXHAUST):
0.064-0.102 mm (0.0025-0.0040 in)
Valve spring free length (INTAKE):
42.21 mm (1.6618 in)
Valve spring free length (EXHAUST):
42.21 mm (1.6618 in)
Camshaft lobe height (INTAKE):
29.640 mm (1.1669 in)
Camshaft lobe height (EXHAUST):
29.390 mm (1.1571 in)
Service Data
Cylinder compression pressure:
517-793 kPa; 75-115 PSI
Valve clearance
Intake valve clearance (COLD):
0.13 mm (0.0051 in)
Exhaust valve clearance (COLD):
0.33 mm (0.0130 in)
Oil system
Lubrication system:
Full pressure with oil filter
Oil type:
API SF, SF/CC, or SF/CD
Recommended oil:
SAE 5W-30, 10W-30, 30W, 40W
Oil capacity:
Standard base (w/o oil filter): 1.4 L (1.5 US. qt, 1.2 Imp. qt.)
High capacity base (w/o oil filter): 2.6 L (2.75 US. qt, 2.3 Imp. qt.)
Oil filter: 0.3 L (0.32 US. qt, 0.26 Imp. qt.)
Fuel system
Type:
Carburetor with fixed main jet
Pilot screw opening:
1-1/2 turns out
Fuel pump type:
Pulse
Ignition system
Type:
Electronic battery ignition system
Ignition timing:
20° B.T.D.C.
Spark plug:
NGK: BPR5EFS; Champion: RS14YC
Spark plug gap:
0.64 mm (0.0252 in)