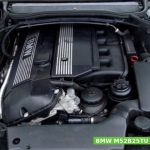 The BMW M52B25TU is a 2.5 L (2,494 cc, 152.2 cu·in) straight-six, natural aspirated four-stroke gasoline engine, manufactured by BMW since 1998 to 2000 on Munich Plant (Munich, Germany). The M52B25TU engine is a technical update of the M52B25 engine. The main "technical update" for M52TU was the addition of double VANOS.
The cylinder bore is 84.0 mm (3.31 in) and the piston stroke is 75.0 mm (2.95 in). The compression ratio rating is 10.5: 1.
This engine produced 170 PS (125 kW; 167.6 HP) at 5,500 rpm of horsepower and 245 N·m (25 kg·m, 180.6 ft·lb) at 3,500 rpm of torque.
The BMW M52B25TU features:
Cast-aluminum alloy cylinder block with cast-iron cylinder liners
Aluminum cylinder head
DOHC design with 4 valves per cylinder (24 valves in total)
Distributorless ignition system with individual ignition coils for each cylinder
Distributorless ignition system with individual ignition coils for each cylinder
Electronic fuel injection (EFI)
Siemens MS 42.0 DME (Digital Motor Electronics) system
Double VANOS (Variable Valve Timing System from BMW)
Motor Driven Throttle Valve
Dual length intake manifold (called "DISA" by BMW)
General information
Engine Specifications
Engine model
M52B25TU
Engine type
Straight-six, 4-stroke, DOHC, inline
Displacement
2.5 L, (2,494 cm3, 152.2 cu·in)
Max. horsepower
170 PS (125 kW; 167.6 HP) at 5,500 rpm
Max. torque
245 N·m (25 kg·m, 180.6 ft·lb) at 3,500 rpm
Cooling system
Liquid-cooled
Lubricating system
Pressure feed
Ignition system
Distributorless ignition system with individual ignition coils for each cylinder
Fuel system
Electronic fuel injection (EFI)
Starting system
Starter 12V
Firing order:
1-5-3-6-2-4
Dimensions (L x W X H)
–
Dry weight
175 kg(385 lbs)
Cylinder Block and Head
Cylinder block
Cylinder block alloy:
Aluminium
Compression ratio:
10.5: 1
Cylinder bore:
84.0 mm (3.31 in)
Piston stroke:
75.0 mm (2.95 in)
Cylinder internal diameter (standard):
84.000-84.010 mm (3.3071-3.3075 in)
Piston skirt outer diameter (standard):
83.980-83.989 mm (3.3063-3.3066 in)
Number of piston rings (compression / oil):
2/1
Piston pin diameter:
22.000 mm (0.8661 in)
Side clearance (Top):
0.020-0.060 mm (0.0008-0.0024 in)
Side clearance (Second):
0.030-0.065 mm (0.0012-0.0026 in)
Side clearance (Oil):
0.020-0.060 mm (0.0008-0.0024 in)
Ring end gap (Top):
0.100-0.300 mm (0.0039-0.0118 in)
Ring end gap (Second):
0.200-0.400 mm (0.0079-0.0157 in)
Ring end gap (Oil):
0.250-0.500 mm (0.0098-0.0197 in)
Number of main bearings:
7
Crankshaft main journal diameter:
60.000 mm (2.3622 in)
Crankpin journal diameter:
45.000 mm (1.7717 in)
Crankshaft center distance:
37.5 mm (1.475 in)
Cylinder head
Cylinder head alloy:
Aluminium
Valve arrangement:
DOHC, chain driven
Valves:
4,(24 valves in total)
Head height:
140.0 mm (5.5118 in)
Valve head diameter (INTAKE):
33.0 mm (1.2992 in)
Valve head diameter (EXHAUST):
30.5 mm (1.2008 in)
Valve steam diameter (INTAKE):
6.0 mm (0.2362 in)
Valve steam diameter (EXHAUST):
6.0 mm (0.2362 in)
Service Data
Compression pressure
Minimum:
10.0 kg/cm2 (9.9 bar, 145 psi) / 350 rpm
Compression differential limit between cylinders:
1.0 kg/cm2 (1.0 bar, 15 psi) / 350 rpm
Oil system
Lubrication system:
Pressure feed
Oil type:
BMW High Performance Synthetic (API SH)
Recommended oil:
SAE 5W-30
Oil capacity:
6.5 L (6.87 US. qt, 5.72 Imp. qt.)
Oil change interval, km (miles)
5,000-10,000 (3,000-6,000)
Fuel system
Type:
Electronic fuel injection (EFI)
Ignition system
Type:
Distributorless ignition system with individual ignition coils for each cylinder
Spark plug:
Bosch: FGR7DQP, NGK: BKR6EQUP
Spark plug torque:
25 N·m (2.5 kg·m, 18.4 ft·lb)
Applications
| | |
| --- | --- |
| Model | Years Produced |
| BMW 323i, 323Ci (E46) | 1998-2000 |
| BMW 525i (E34) | 1998-2000 |
| BMW Z3 2.3i (E36/7 ) | 1998-2000 |
| BMW 323ti Compact (E36) – with single VANOS | 1999-2000 |