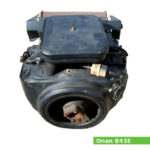 The Onan B43E is a 0.7 L (710 cc, 43.33 cu·in) natural aspirated four-stroke air-cooled internal combustion small gasoline engine with a horizontal shaft, for general-purpose applications.
The cylinder bore is 82.55 mm (3.25 in) and the piston stroke is 66.55 mm (2.62 in). The compression ratio rating is 6.2:1.
The B43E engine produced 16.2 PS (11.9 kW; 16.0 HP) at 3,600 rpm of maximum horsepower and 44.0 N·m (4.5 kg·m, 32.4 ft·lb) of maximum torque.
The Onan B43E features:
L-head design
Carburetor fuel system
Forced lubrication system
Air cooling system
Electric starter
General information
Engine Specifications
Engine model
B43E
Engine type
4-stroke, L-head, flat
Displacement
710 cm3, (43.33 cu·in)
Max. horsepower
16.2 PS (11.9 kW; 16.0 HP) at 3,600 rpm
Max. torque
44.0 N·m (4.5 kg·m, 32.4 ft·lb)
Cooling system
Air-cooled
Air cleaner
–
Lubricating system
Forced lubrication
Ignition system
–
Fuel system
Carburetor
Fuel consumption
–
Fuel used
Unleaded gasoline (octane number 86 or higher)
Starting system
Electric starter
Dimensions (L x W X H)
–
Dry weight
–
Cylinder Block and Head
Cylinder block
Compression ratio:
6.2:1
Cylinder bore:
82.55 mm (3.25 in)
Piston stroke:
66.55 mm (2.62 in)
Cylinder internal diameter (standard):
82.530-82.550 mm (3.2492-3.25 in)
Piston skirt outer diameter (standard):
82.42-82.44 mm (3.2449-3.2457 in)
Number of piston rings (compression / oil):
2/1
Connecting rod small end diameter (standard):
17.470-17.480 mm (0.6878-0.6882 in)
Piston pin diameter:
17.463-17.468 mm (0.6875-0.6877 in)
Ring end gap (Top):
0.250-0.510 mm (0.0098-0.0201 in)
Ring end gap (Second):
0.250-0.510 mm (0.0098-0.0201 in)
Number of main bearings:
2
Crankshaft main journal diameter:
50.780-50.800 mm (1.9992-2 in)
Crankpin journal diameter:
41.280-41.300 mm (1.6252-1.626 in)
Crankshaft center distance:
33.275 mm (1.31 in)
Cylinder head
Valve arrangement:
L-head, gear driven
Valves:
4 (2 per cylinder)
Valve steam diameter (INTAKE):
8.700-8.710 mm (0.3425-0.3429 in)
Valve steam diameter (EXHAUST):
8.660-8.670 mm (0.3409-0.3413 in)
Valve spring free length (INTAKE):
42.210 mm (1.6618 in)
Valve spring free length (EXHAUST):
42.210 mm (1.6618 in)
Camshaft lobe height (INTAKE):
28.370-28.470 mm (1.1169-1.1209 in)
Camshaft lobe height (EXHAUST):
28.370-28.470 mm (1.1169-1.1209 in)
Camshaft journal diameter:
34.900-34.910 mm (1.374-1.3744 in)
Service Data
Cylinder compression:
517-793 kPa (75 to 115 psi)
Valve clearance
Intake valve clearance (COLD):
0.130 mm (0.0051 in)
Exhaust valve clearance (COLD):
0.330 mm (0.013 in)
Oil system
Lubrication system:
Forced lubrication
Recommended oil:
SAE 10W-30
Oil capacity:
Without oil filter: 1.4 L (1.48 US. qt, 1.23 Imp. qt.)
With oil filter: 1.7 L (1.8 US. qt, 1.5 Imp. qt.)
Fuel system
Type:
Carburetor
Ignition system
Ignition timing:
16° B.T.D.C.
Spark plug:
NGK BPR5EF, Champion RS14YC
Spark plug gap:
0.640 mm (0.0252 in)
Breaker point gap
0.410 mm (0.01610.0161 in)