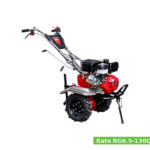 The Rato RG6.5-130Q-Z-2 is a tiller for garden, greenhouse and vegetable growers. The RG6.5-130Q-Z-2 is equipped with small 4-stroke general-purpose Rato R390 engine; gear type transmission system and gearbox with three forward, one reverse and idle speed.
The engine uses dual-element air cleaner, flat suction valve carburetor, transistorized magneto ignition system; centrifugal governor and recoil starter. The Rato RG6.5-130Q-Z-2 working width is 148 cm (58.26 in) and working depth is 36 cm (14.2 in)
The Rato R390 is a single-cylinder air-cooled 4-stroke internal combustion engine. Compression ratio rating is 8.5:1. An 88.0 mm (3.50 in) cylinder bore and 64.0 mm (2.50 in) piston stroke give the Rato R390 motor a total of 389 cc (23.7 cu-in) of displacement. The engine produced 7.8 kW at 3,600 rpm of horsepower and 25 N·m (2.54 kg·m, 18.43 ft·lb) at 2,500 rpm of torque.
General information
Tiller, Rotavator, Cultivator Specifications
Model
Rato RG6.5-130Q-Z-2
Dimensions (L x W x H):
1000 x 560 x 815 mm (39.4 x 22.0 x 32.0 in)
Dry weight (without tines)
134.0 kg (295.4 lbs)
Operating weight
149.0 kg (328.5 lbs)
Engine
Engine model
Rato R390
Displacement
289 cm3 (23.7 cu-in)
Bore x stroke
88 X 64 mm (3.5 x 2.5 in)
Max. horsepower
7.8 kW at 3,600 rpm
Max. torque
25 N·m (2.54 kg·m, 18.43 ft·lb) at 2,500 rpm
Carburetor
Flat suction valve carburetor
Cooling system
Forced-air
Ignition system
Transistorized magento ignition
Lubricating system
Splash
Starting system
Recoil starter
Stoping system
Ignition primary circuit ground
Fuel used
Unleaded gasoline (octane number 86 or higher)
Fuel tank capacity
6.5 L
Transmission and clutch
Transmission
Gear
Clutch type
Friction Disk
Gearbox
3 Forward, 1 Reverse and 1 Idle
Maintenance data
Engine
Maximum speed
3,750-3,810 rpm
Cylinder compression
14.0 kg/cm2 at 1,400 rpm
Valve clearance
Intake valve clearance
0.15±0.02 mm (0.006±0.001 in)
Exhaust valve clearance
0.20±0.02 mm (0.008±0.001 in)
Oil system
Oil type
4-stroke or an equivalent (SJ)
Recommended oil
SAE 10W-30, 15W-40
Oil capacity
1.1 L
Carburetor
Main jet
#92
Float height
13.2 mm (0.52 in)
Pilot screw opening
1-7/8 turns out
Ignition system
Spark plug
NGK: BPR6ES
Spark plug gap
0.7-0.8 mm (0.028-0.031 in)
Primary ignition coil resistance
0.6-0.9 Ω
Secondary ignition coil resistance
5.6-6.9 kΩ
Ignition coil air gap
0.4 ± 0.2 (0.016 ± 0.008)