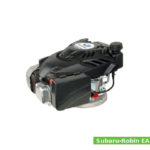 The Subaru-Robin EA175V is a 0.2 L (174 cc, 10.62 cu·in) natural aspirated single-cylinder four-stroke air-cooled internal combustion small gasoline engine with a vertical shaft, manufactured by the Industrial Products division of Subaru Corporation for general-purpose applications.
The EA175V engine was produced until 2017 under the brand Subaru Industrial Power Products, which was previously referred to as Robin, Subaru-Robin and Wisconsin Robin. This engine used for lawn mowers and garden applications including pressure washers, walk behind string trimmers, aerators and lawn vacs.
The EA175V engine has a single cylinder, overhead camshaft (OHC) design, vertical shaft, and recoil starter. This engine used float type carburetor, capacitance discharge type ignition system, centrifugal flyweight type governor, mechanical splash type lubricating system and forced-air cooling system. The engine is fitted with a foam air cleaner (paper air cleaner was available as an option). The EA175V is equipped with 0.6 L (0.16 US. gal. 0.13 Imp. gal.) fuel tank.
The Subaru-Robin EA175V engine produced 4.5 PS (3.4 kW; 4.5 HP) at 3,600 rpm of maximum horsepower and 10 N·m (1 kg·m, 7.4 ft·lb) at 2,500 rpm of peak torque.
General information
Engine Specifications
Engine model
EA175V
Engine type
4-stroke, OHC, single-cylinder
Displacement
174 cm3, (10.62 cu·in)
Max. horsepower
4.5 PS (3.4 kW; 4.5 HP) at 3,600 rpm
Max. torque
10.0 N·m (1.0 kg·m, 7.4 ft·lb) at 2,500 rpm
Cooling system
Forced air
Air cleaner
Foam (Optional Paper)
Lubricating system
Splash type
Ignition system
Сapacitance discharge type
Fuel system
Float type carburetor
Fuel consumption
395 g/kWh
Fuel tank capacity
0.6 L (0.16 US. gal. 0.13 Imp. gal.)
Fuel used
Unleaded gasoline (octane number 86 or higher)
Starting system
Recoil starter
Stoping system
Ignition primary circuit ground
Governor
Centrifugal flyweight type
PTO shaft rotation
Anticlockwise(see from the direction of the crankshaft housing)
Dimensions (L x W X H)
397 x 360 x 268 mm (15.6 x 14.2 x 10.6 in)
Dry weight
13.0 kg (28.7 lbs)
Cylinder Block and Head
Cylinder bore and piston stroke are 68.0 mm (2.68 in) and 48.0 mm (1.89 in), respectively. Compression ratio rating is 9.0:1. The Subaru EA175V used a cast-iron cylinder liner with heavy-duty piston rings, forged high-carbon steel crankshaft with ball bearing supporting system and hardened steel rocker arms with precision tappet adjusters. The piston is fitted with two compression rings and a single oil ring.
Cylinder block
Compression ratio:
9.0:1
Cylinder bore:
68.0 mm (2.68 in)
Piston stroke:
48.0 mm (1.89 in)
Cylinder internal diameter (standard):
68.000-68.020 mm (2.6772-2.6779 in)
Piston skirt outer diameter (standard):
67.989-67.971 mm (2.6767-2.676 in)
Number of piston rings (compression / oil):
2/1
Connecting rod big end diameter (standard):
30.000-30.018 mm (1.1811-1.1818 in)
Connecting rod small end diameter (standard):
16.005-16.021 mm (0.6301-0.6307 in)
Piston pin diameter:
13.994-14.000 mm (0.5509-0.5512 in)
Top ring side clearance:
0.04-0.08 mm (0.0016-0.0031 in)
Second ring side clearance:
0.04-0.08 mm (0.0016-0.0031 in)
Top ring end gap:
0.13-0.28 mm (0.0051-0.011 in)
Second ring end gap:
0.20-0.40 mm (0.0079-0.0157 in)
Top ring width:
2.50-2.70 mm (0.0984-0.1063 in)
Second ring width:
2.60-2.80 mm (0.1024-0.1102 in)
Crankpin journal diameter:
29.969-29.981 mm (1.1799-1.1804 in)
Crankshaft center distance:
24.0 mm (0.945 in)
Cylinder head
Valve arrangement:
OHC, chain driven
Valves::
2
Intake valve steam diameter:
5.440-5.455 mm (0.2142-0.2148 in)
Exhaust valve steam diameter:
5.430-5.445 mm (0.2138-0.2144 in)
Intake valve spring free length:
30.50 mm (1.2008 in)
Exhaust valve spring free length:
30.50 mm (1.2008 in)
Intake camshaft lobe height:
23.98 mm (0.9441 in)
Exhaust camshaft lobe height:
27.88 mm (1.0976 in)
Camshaft journal diameter :
9.000-9.040 mm (0.3543-0.3559 in)
Service Data
The 4-stroke engine oil, API service classification SE with a viscosity of 5W-30, 10W-30 is recommended for the EA175V, refilling oil capacity is 0.6 L (0.63 US. qt, 0.53 Imp. qt.). Recommended spark plug is NGK: BPR6HS or BPR7HS, CHAMPION: RL82YC or RL87YC; TORCH: E7RTC or E6RTC with 0.7-0.8 mm (0.0276-0.0276 in) spark plug gap.
The valve clearance is 0.10-0.15 mm (0.0039-0.0059 in) for intake valves and 0.15-0.20 mm (0.0059-0.0079 in) for exhaust valves. Standard cylinder compression is 1.15 MPa at 1200 rpm.
Engine
Maximum speed:
3,800±100 rpm
Cylinder compression:
1.15 MPa at 1200 rpm
Valve clearance
Intake valve clearance:
0.10-0.15 mm (0.0039-0.0059 in)
Exhaust valve clearance:
0.15-0.20 mm (0.0059-0.0079 in)
Oil system
Lubrication system:
Splash type
Oil type:
5W-30, 10W-30
Recommended oil:
4-stroke engine oil, API service classification SE
Oil capacity:
0.6 L (0.63 US. qt, 0.53 Imp. qt.)
Fuel system
Type:
Float type carburetor
Ignition system
Type:
Сapacitance discharge type
Spark plug:
NGK: BPR6HS or BPR7HS
CHAMPION: RL82YC or RL87YC
TORCH: E7RTC or E6RTC
Spark plug gap:
0.7-0.8 mm (0.0276-0.0276 in)
Spark plug torque:
22 N·m (2.2 kg·m, 16.2 ft·lb)
Tightening torque
Tightening torque settings
Connecting rod bolt
13 Nm; 1.33 kg·m; 9.59 ft·lb
Cylinder head bolt
26 Nm; 2.65 kg·m; 19.19 ft·lb
Flywheel nut
52 Nm; 5.3 kg·m; 38.38 ft·lb
Crankcase cover bolt
10 Nm; 1.02 kg·m; 7.38 ft·lb
Value locking nut
6 Nm; 0.61 kg·m; 4.43 ft·lb
Oil drain bolt
22 Nm; 2.24 kg·m; 16.24 ft·lb