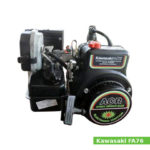 The Kawasaki FA76D is a 76 cc, (4.64 cu·in) natural aspirated single-cylinder four-stroke air-cooled internal combustion small gasoline engine with a horizontal shaft, manufactured by Kawasaki Heavy Industries LTd. for general-purpose applications.
A 52.0 mm (2.05 in) cylinder bore and 36.0 mm (1.42 in) piston stroke give the FA76D engine a total of 76 cc of displacement. The compression ratio rating is 6.4:1.
The FA76D engine produced 1.7 PS (1.25 kW; 1.7 HP) at 4,000 rpm of maximum horsepower and 3.1 N·m (0.3 kg·m, 2.3 ft·lb) at 3,200 rpm of maximum torque.
The Kawasaki FA76D features:
One piece hypereutectic aluminum-silicon alloy die casting with plateau honing cylinder and crankcase
Hard-chrome plated aluminum alloy piston
Two compression rings including silicon carbide (on an iron base) plated top ring, and one oil control ring.
I-beam cross section, heat treated aluminum alloy connecting rod, with large bearings
Heat treated ductile iron crankshaft, integrated with counterbalance weights and camshaft drive gear
Forged 21 -4N austenitic stainless steel exhaust valve and forged heat-resisting steel intake valve
Magneto ignition with waterproof molded ignition coil. Breaker system standard or electronic ignition system (optional)
Pulse pump carburetor or float carburetor
Mechanical fly-weight typel governor
Splash type lubrication system
Forced air cooling system with large capacity, curved vane blower casting, integrated with flywheel
Recoil starter
General information
Engine Specifications
Engine model
FA76D
Engine type
4-stroke, single-cylinder
Displacement
76 cm3, (4.64 cu·in)
Max. horsepower
1.7 PS (1.25 kW; 1.7 HP) at 4,000 rpm
Max. torque
3.1 N·m (0.3 kg·m, 2.3 ft·lb) at 3,200 rpm
Cooling system
Forced air
Air cleaner
Semi-dry type
Lubricating system
Splash type
Ignition system
Magneto type. Breaker system standard or electronic ignition system (optional)
Fuel system
Pulse pump carburetor or float carburetor
Fuel consumption
330 g/HPh
Fuel tank capacity
Pulse pump carburetor: 1.15 liters (1.22 US.qts, 1.01 Imp. qts)
Float carburetor: 1.7 liters (1.8 US.qts, 1.5 Imp. qts)
Fuel used
Unleaded gasoline (octane number 86 or higher)
Starting system
Recoil starter
Stoping system
Ignition primary circuit ground
Governor
Mechanical fly-weight
PTO shaft rotation
Counterclockwise (from PTO shaft side)
Dimensions (L x W X H)
–
Dry weight
7.3 kg (16.1 lbs)
Cylinder Block and Head
Cylinder block
Compression ratio:
6.4:1
Cylinder bore:
52.0 mm (2.05 in)
Piston stroke:
36.0 mm (1.42 in)
Cylinder internal diameter (max):
52.070 mm (2.05 in)
Number of piston rings (compression / oil):
2/1
Clearance between piston and cylinder:
0.200 mm (0.0078 in)
Clearance between ring and ring groove (Top):
0.150 mm (0.0059 in)
Clearance between ring and ring groove (Second):
0.150 mm (0.0059 in)
Clearance between ring and ring groove (Oil):
0.150 mm (0.0059 in)
Ring end gap (Top):
0.100 mm (0.0039 in)
Ring end gap (Second):
0.100 mm (0.0039 in)
Ring end gap (Oil):
0.100 mm (0.0039 in)
Number of main bearings:
2
Clearance between piston and piston pin:
0.05 mm (0.0020 in)
Connecting rod big end side play:
0.70 mm (0.0277 in)
Clearance between connecting rod small end and piston pin:
0.10 mm (0.0040 in)
Clearance between crankshaft and bearing (Bush type):
0.13 mm (0.0051 in)
Crankshaft axial play:
0.60 mm (0.0237 in)
Crankpin journal diameter:
19.950 mm (0.7854 in)
Cylinder head
Valves:
2
Clearance between camshaft and bearing (Bush type):
0.10 mm (0.0040 in)
Cam lift (INTAKE):
17.35 mm (0.6830 in)
Cam lift (EXHAUST):
17.35 mm (0.6830 in)
Valve spring free length (INTAKE):
20.50 mm (0.8071 in)
Valve spring free length (EXHAUST):
20.50 mm (0.8071 in)
Clearance between stem and valve guide:
0.15 mm (0.0060 in)
Clearance between tappet and valve tappet:
0.10 mm (0.0040 in)
Camshaft axial play:
0.60 mm (0.0237 in)
Tightening torque
Tightening torque specs
Cylinder head
7 Nm; 0.7 kg·m; 5.2 ft·lb
Connecting rod
7 Nm; 0.7 kg·m; 5.2 ft·lb
Flywheel
35 Nm; 3.5 kg·m; 25.8 ft·lb
Drain plug
14 Nm; 1.4 kg·m; 10.3 ft·lb
Service Data
Engine
Maximum speed:
4,000 rpm
Idle speed:
1,500-1,6000 rpm
Valve clearance
Intake valve clearance:
0.10-0.20 mm (0.0040-0.0080 in)
Exhaust valve clearance:
0.10-0.30 mm (0.0040-0.0120 in)
Oil system
Lubrication system:
Splash type
Oil type:
API SC, SD, SE
Recommended oil:
10W-30, 10W-40
Oil capacity:
0.32 L (0.34 US. qt, 0.28 Imp. qt.)
Fuel system
Type:
Pulse pump type carburetor with idle mixture adjustment
Pilot air screw initial setting:
Unscrew 1 turn
Type:
Float type carburetor anti-erosion aluminum alloy, with idle mixture adjustment and fuel shut off valve
Fuel cock opening:
Unscrew 1-1/2 turns
Pilot air screw initial setting:
Unscrew 1-1/4 turns
Ignition system
Type:
Magneto with waterproof molded ignition coil and dustproof breaker point enclosure. Breaker system (standard) or electronic ignition system (optional)
Ignition timing:
23° B.T.D.C. (Fixed)
Spark plug:
NGK BM6A
Spark plug gap:
0.6-0.7 mm (0.0236-0.0276 in)
Ignition coil air gap
0.3-0.5 mm (0.0118-0.0197 in)