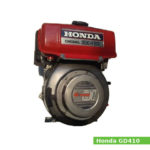 The Honda GD410 is a 411 cc (25.1 cu·in) natural aspirated single-cylinder four-stroke air-cooled internal combustion small diesel engine with a horizontal shaft, manufactured by Honda Motor Company for general-purpose applications.
It has an 82.0 mm (3.23 in) cylinder bore and 78.0 mm (3.07 in) piston stroke. The compression ratio rating is 18.2:1.
The Honda GD410 engine produced 9.1 PS (6.7 kW; 9.0 HP) at 3,600 rpm of maximum output power and 20.6 N·m (2.1 kg·m, 15.2 ft·lb) at 2,500 rpm of peak torque.
The Honda GD410 features:
OHV design
Centrifugal governor
Forced spray lubrication system
Forced air cooling system
Recoil starter or starter motor
General information
Engine Specifications
Engine model
GD410
Engine type
4-stroke, OHV, single-cylinder
Displacement
411 cm3, (25.1 cu·in)
Max. horsepower
9.1 PS (6.7 kW; 9.0 HP) at 3,600 rpm
Max. torque
20.6 N·m (2.1 kg·m, 15.2 ft·lb) at 2,500 rpm
Cooling system
Forced air
Air cleaner
Dual type and cyclone
Lubricating system
Forced spray
Fuel tank capacity
4.6 L (1.22 US. gal. 1.01 Imp. gal.)
Fuel used
Diesel fuel
Starting system
Recoil starter, starter motor
Governor
Centrifugal governor
PTO shaft rotation
Counterclockwise (from PTO shaft side)
Dimensions (L x W X H) – series "S"
440 x 405 x 490 mm (17.3 x 15.9 x 19.3 in)
Dry weight
54.0 kg (119 lbs)
Cylinder Block and Head
Cylinder block
Compression ratio:
18.2:1
Cylinder bore:
82.0 mm (3.23 in)
Piston stroke:
78.0 mm (3.07 in)
Cylinder internal diameter (standard):
82.000-82.017 mm (3.2283-3.229 in)
Piston skirt outer diameter (standard):
81.940-81.960 mm (3.226-3.2268 in)
Number of piston rings (compression / oil):
2/1
Connecting rod big end diameter (standard):
46.000-46.024 mm (1.811-1.812 in)
Connecting rod small end diameter (standard):
23.010-23.028 mm (0.9059-0.9066 in)
Side clearance (Top):
0.085-0.115 mm (0.0033-0.0045 in)
Side clearance (Second):
0.075-0.110 mm (0.003-0.0043 in)
Side clearance (Oil):
0.020-0.055 mm (0.0008-0.0022 in)
Ring end gap (Top):
0.250-0.400 mm (0.0098-0.0157 in)
Ring end gap (Second):
0.250-0.400 mm (0.0098-0.0157 in)
Ring end gap (Oil):
0.200-0.400 mm (0.0079-0.0157 in)
Ring width (Top):
1.960-1.975 mm (0.0772-0.0778 in)
Ring width (Second):
1.950-1.970 mm (0.0768-0.0776 in)
Ring width (Oil):
3.970-3.990 mm (0.1563-0.1571 in)
Crankshaft main journal diameter:
49.970-49.994 mm (1.9673-1.9683 in)
Crankpin journal diameter:
42.976-43.000 mm (1.692-1.6929 in)
Crankshaft center distance:
39.000 mm (1.535 in)
Cylinder head
Valve arrangement:
OHV
Valves:
2
Valve steam diameter (INTAKE):
6.575-6.590 mm (0.2589-0.2594 in)
Valve steam diameter (EXHAUST):
6.540-6.550 mm (0.2575-0.2579 in)
Valve spring free length (INTAKE):
33.7 mm (1.3268 in)
Valve spring free length (EXHAUST):
33.7 mm (1.3268 in)
Camshaft lobe height (INTAKE):
41.022 mm (1.615 in)
Camshaft lobe height (EXHAUST):
41.022 mm (1.615 in)
Tightening torque specs
Tightening torque specs
Cylinder head bolts
43 Nm; 4.3 kg·m; 31 ft·lb
Cylinder head nuts
11 Nm; 1.1 kg·m; 8 ft·lb
Rocker arm shaft nuts
11 Nm; 1.1 kg·m; 8 ft·lb
Tappet adjusting nuts
9 Nm; 0.9 kg·m; 6.5 ft·lb
Oil pan bolt bolts
M11: 71 Nm; 7.1 kg·m; 51 ft·lb
M8: 22 Nm; 2.2 kg·m; 16 ft·lb
Connecting rod cap nuts
32 Nm; 3.2 kg·m; 23 ft·lb
Relief valve
33 Nm; 3.3 kg·m; 24 ft·lb
Drain plug bolt
33 Nm; 3.3 kg·m; 24 ft·lb
Flywheel nut
250 Nm; 25.0 kg·m; 180 ft·lb
Injection nozzle
10 Nm; 1.0 kg·m; 7 ft·lb
Air breather joint nuts
18 Nm; 1.8 kg·m; 13 ft·lb
Fuel injection pump bolts
22 Nm; 2.2 kg·m; 16 ft·lb
Fuel joint bolts
28 Nm; 2.8 kg·m; 20 ft·lb
Air breather bolt
18 Nm; 1.8 kg·m; 13 ft·lb
Fuel pipe nuts
20 Nm; 2.0 kg·m; 14 ft·lb
Muffler nuts, bolts
22 Nm; 2.2 kg·m; 16 ft·lb
Fuel tank bolts
11 Nm; 1.1 kg·m; 18 ft·lb
Fuel filter bolts
11 Nm; 1.1 kg·m; 18 ft·lb
Drain bolt
11 Nm; 1.1 kg·m; 18 ft·lb
Service Data
Engine
Maximum speed:
3,700±150 rpm
Idle speed:
1,450±150 rpm
Cylinder compression:
26.0 kg/cm2 (370 psi) at 300 rpm
Valve clearance
Intake valve clearance:
0.13-0.17 mm (0.0051-0.0067 in)
Exhaust valve clearance:
0.13-0.17 mm (0.0051-0.0067 in)
Oil system
Lubrication system:
Forced spray
Oil type:
Diesel oil (API CC or CD)
Recommended oil:
SAE 10W-30
Oil capacity:
1.25 L (1.32 US. qt, 1.1 Imp. qt.)
Oil pressure:
3.9-5.2 kg/cm2 (55.5-74.0 psi) at 3,600 rpm