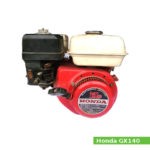 The Honda GX140 is a 144 cc, (8.8 cu-in) single-cylinder air-cooled four-stroke internal combustion gasoline engine manufactured by Honda Motor Company since 1983 for general-purpose applications, such as pressure washers, commercial lawn and garden equipment, tillers and cultivators, generators, construction or industrial equipment, agricultural equipment, small vehicles, water pumps.
The Honda GX140 engine has a single cylinder inclined by 25°, an overhead valve (OHV) design for increased efficiency and optimal power transfer, a sophisticated air intake system, large capacity, a multi-chamber exhaust system, and a heavy-duty recoil starter. This engine used a horizontal type carburetor with butterfly valve, transistorized magneto ignition system, splash type lubricating system, and forced-air cooling system. The engine used a dual element (dry/semidry) air cleaner.
The GX140 engine produces 3.6 kW (5.0 PS) at 4,000 rpm of maximum output power and 9.8 N·m (1.0 kg·m, 7.7 ft·lb) at 2,800 rpm of peak torque.
General information
Engine Specifications
Engine model
GX140
Type
4-stroke, OHV, single cylinder, inclined by 25°
Displacement
144 cm 3 (8.78 cu-in)
Max. horsepower
5.0 PS (3.6 kW) at 4,000 rpm
Max. torque
9.8 N·m (1.0 kg·m, 7.7 ft·lb) at 2,800 rpm
Carburetor
Horizontal type, butterfly valve
Cooling system
Forced-air
Ignition system
Transistorized magneto ignition
Lubricating system
Splash
Starting system
Recoil starter
Stoping system
Ignition primary circuit ground
Fuel used
Unleaded gasoline (octane number 86 or higher)
Fuel tank capacity
3.6 l (0.95 US. Gal, 0.79 Imp. Gal.)
Fuel consumption
230 g/HPh
PTO shaft rotation
Counterclockwise (from PTO shaft side)
Dimensions (L x W X H)
Type S: 315 x 355 x 335 mm (12.4 x 14.4 x 13.2 in)
Dry weight
14.0 kg (30.9 lbs)
Cylinder Block and Head
The Honda GX140 has cast iron cylinder sleeve, ball bearing supported crankshaft, improved piston design, heavy duty balancer shaft. The cylinder bore is 64.0 mm (2.5 in) and the piston stroke is 45.0 mm (1.77 in). Compression ratio rating is 8.7:1.
Cylinder block
Compression ratio:
8.7:1
Cylinder bore:
64.0 mm (2.5 in)
Piston stroke:
45.0 mm (1.77 in)
Sleeve internal diameter
64.000-64.015 mm (2.5196-2.5197 in)
Piston skirt outer diameter
63.965-63.985 mm (2.5183-2.5190 mm)
Number of piston rings (compression / oil):
2 / 1
Ring side clearance (Top/second)
0.015-0.045 (0.0006-0.0018)
Ring end gap (Top/second)
0.20-0.40 mm (0.0079-0.0157 in)
Ring end gap (Oil)
0.15-0.35 mm (0.006-0.0137 in)
Ring width (Top/second)
1.5 mm (0.059 in)
Ring width (Oil)
2.5 mm (0.98 in)
Piston pin outer diameter:
17.994-18.000 mm (0.7084-0.7087in)
Crankshaft main journal diameter:
30.0 mm (1.1811 in)
Cylinder Head
Warpage (limit)
0.10 mm (0.004 in)
Valve Arrangement:
OHV
Valves:
2
Stem outer diameter (INTAKE):
5.468-5.480 mm (0.2152-0.2157 in)
Stem outer diameter (EXHAUST):
5.425-5.440 mm (0.2135-0.2141 in)
Cam height (INTAKE):
27.70 mm (1.0905 in)
Cam height (EXHAUST):
27.75 mm (1.0925 in)
Camshaft journal diameter:
14.00 mm (0.5511 in)
Service Data
Engine
Maximum speed
3,960 ± 100 rpm
Idle speed
1400 ± 150 rpm
Cylinder compression
6.0-8.5 kg/cm2 (85-151 psi) at 600 rpm
Carburetor
Type
Horizontal type, butterfly valve
Main jet
#68
Float height
13.7±1.5 mm (0.54±0.06 in)
Pilot screw opening
1 turns out
Oil system
Lubricating system
Splash type
Oil type
Honda 4-stroke or an equivalent (SE or SF)
Recommended oil
SAE 10W-30
Oil capacity
0.6 L (0.63 US. qt, 0.53 Imp. qt.)
Ignition system
Ignition timing
B.T.D.C. 25° / 1,400 rpm
Type
Transistorized magneto ignition
Spark plug
NGK: BPR6ES
NIPPONDENSO: W20EPR-U
Spark plug gap
0.7-0.8 mm (0.028-0.031 in)
Ignition coil air gap
0.2-0.6 mm (0.01-0.02 in)
Applications