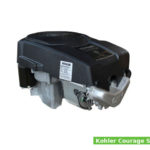 The Kohler SV591 is a 0.6 L (597 cc, 36.43 cu·in) natural aspirated single-cylinder four-stroke air-cooled small gasoline engine with a vertical shaft from the Courage series, manufactured by Kohler Co for general-purpose applications.
The cylinder bore is 94.0 mm (3.7 in) and the piston stroke is 86.0 mm (3.39 in). The compression ratio rating is 8.5:1.
The Kohler Courage SV591 engine produced 19.3 PS (14.2 kW; 19.0 HP) at 3,600 rpm of maximum output power and 44.7 N·m (4.6 kg·m, 32.9 ft·lb) of peak torque.
The Kohler SV591 features:
OHV design
Aluminum head and crankcase with cast iron cylinder liner
Micro-polished crankshaft bearings
Electronic ignition system
Carburetor with fixed main jet (Nikki or Walbro)
Centrifugal governor
Full pressure lubrication with full-flow filter
Forced air cooling system
Electric starter
General information
Engine Specifications
Engine model
Courage SV591
Engine type
4-stroke, OHV, single-cylinder
Displacement
597 cm3, (36.43 cu·in)
Max. horsepower
19.3 PS (14.2 kW; 19.0 HP) at 3,600 rpm
Max. torque
44.7 N·m (4.6 kg·m, 32.9 ft·lb)
Cooling system
Forced air
Air cleaner
Replaceable, paper element
Lubricating system
Pressurized lubrication
Ignition system
Electronic ignition system
Fuel system
Carburetor with fixed main jet (Nikki or Walbro)
Fuel consumption
–
Fuel tank capacity
–
Fuel used
Unleaded gasoline (octane number 86 or higher)
Starting system
Electric starter
Dimensions (L x W X H)
493 x 416 x 328 mm (19.4 x 16.4 x 12.9 in)
Dry weight
35.8 kg (78.9 lbs)
Cylinder Block and Head
Cylinder block
Compression ratio:
8.5:1
Cylinder bore:
94.0 mm (3.7 in)
Piston stroke:
86.0 mm (3.39 in)
Cylinder internal diameter (standard):
94.010-94.035 mm (3.7012-3.7022 in)
Number of piston rings (compression / oil):
2/1
Piston pin diameter:
21.995-22.000 mm (0.8659-0.8661 in)
Side clearance (Top):
0.040 mm (0.0016 in)
Side clearance (Second):
0.040 mm (0.0016 in)
Ring end gap (Top):
0.150-0.400 mm (0.0059-0.0157 in)
Ring end gap (Second):
0.300-0.550 mm (0.0118-0.0217 in)
Crankshaft main journal diameter:
Before S/N 3703200003
Flywheel End: 44.913-44.935 mm (1.768-1.769 in)
PTO End: 41.913-41.935 mm (1.650-1.651 in)

After SN 3703200013
Flywheel End:44.870-44.895 mm (1.766-1.767 in)
PTO End: 41.855-41.880 mm (1.648-1.649 in)

Crankpin journal diameter:
40.982-41.000 mm (1.6135-1.6142 in)
Crankshaft center distance:
43 mm (1.695 in)
Cylinder head
Valve arrangement:
OHV
Valves:
2
Valve head diameter (INTAKE):
37.375-37.625 mm (1.4715-1.4813 in)
Valve head diameter (EXHAUST):
32.125-32.375 mm (1.2648-1.2746 in)
Valve steam diameter (INTAKE):
5.982-6.000 mm (0.2355-0.2362 in)
Valve steam diameter (EXHAUST):
5.970-5.988 mm (0.235-0.2357 in)
Service Data
Valve clearance
Intake valve lash:
0.127 mm (0.005 in)
Exhaust valve lash:
0.178 mm (0.007 in)
Oil system
Lubrication system:
Pressurized lubrication
Oil type:
SJ or higher
Recommended oil:
SAE 10W-30
Oil capacity:
1.5 L (1.59 US. qt, 1.32 Imp. qt.)
Fuel system
Type:
Carburetor with fixed main jet (Nikki or Walbro)
Ignition system
Type:
Electronic ignition system
Spark plug:
Champion RC12YC
Spark plug gap:
0.76 mm (0.0299 in)
Spark plug torque:
27 N·m (2.8 kg·m, 19.9 ft·lb)
Tightening torque specifications
Valve clearance
Cylinder Head
20.5-41.0 Nm (15-30 ft-lb)
Rocker Arm Pivot Stud
13.5 Nm (10 ft-lb)
Rocker Arm Adjustment Nut Set Screw
5.5 Nm (4.2 ft-lb)
Flywheel Retaining Screw
66.5 Nm (49 ft-lb)
Connecting Rod Cap
11.5 Nm (8.5 ft-lb)
Cam Lever
7.5 Nm (5.4 ft-lb)
Oil Drain Plug
14.0 Nm (10.4 ft-lb)
Fuel Bowl Retaining Screw Torque
5.1-6.2 Nm (3.8-4.6 ft-lb)
Balance Weight Screw
10.0 Nm (7.5 ft-lb)
Air Cleaner Base Mounting Screw
8.0 Nm (5.8 ft-lb)
Electric Starter Mounting Nut
3.6 Nm (2.7 ft-lb)
Ignition Module
6.0 Nm (4.5 ft-lb)
Muffler Retaining Nuts
24.4 Nm (18 ft-lb)
Oil Filter
10-13 Nm (7.5-10.1 ft-lb)
Oil Pump Mounting Screw
4.0 Nm (2.9 ft-lb)
Rectifier-Regulator Mounting Screw
6.0 Nm (4.5 ft-lb)
Speed Control Bracket Assembly
11.0 Nm (8.2 ft-lb)
Governor Control Lever
7.0-8.5 Nm (5.2-6.3 ft-lb)