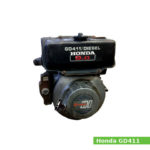 The Honda GD411 is a 411 cc, (25.1 cu·in) natural aspirated single-cylinder four-stroke air-cooled internal combustion small diesel engine with a horizontal shaft, manufactured by Honda Motor Company for general-purpose applications.
It has an 82.0 mm (3.23 in) cylinder bore and 78.0 mm (3.07 in) piston stroke. The compression ratio rating is 19.4:1 for the B-type engine, 20.0:1 for the North American engine version, and 18.2:1 for the others.
This engine produced 9.1 PS (6.7 kW; 9.0 HP) at 3,600 rpm of horsepower for S,Q,V,P,E types, 7.5 PS (5.5 KW; 7.4 HP) at 3,000 rpm for B-type and 8.7 PS (6.4 KW; 8.6 HP) at 1,800 rpm for L-type engine.
The Honda GD411 features:
OHV design
Zexel PFRIKX fuel injection pump
Zexel DLLA-P injection nozzle
Centrifugal governor
Forced spray lubrication system
Forced air cooling system
Recoil starter, starter motor
General information
Engine Specifications
Engine model
GD411
Engine type
4-stroke, OHV, single-cylinder
Displacement
411 cm3, (25.1 cu·in)
Max. horsepower
S,Q,V,P,E: 9.1 PS (6.7 kW; 9.0 HP) at 3,600 rpm
B: 7.5 PS (5.5 KW; 7.4 HP) at 3,000 rpm
L: 8.7 PS (6.4 KW; 8.6 HP) at 1,800 rpm
Max. torque
S,Q,V,P,E: 20.6 N·m (2.1 kg·m, 15.19 ft·lb) at 2,500 rpm
B: 19.6 N·m (2.0 kg·m, 14.5 ft·lb) at 1,800 rpm
L: 40.2 N·m (4.1 kg·m, 30 ft·lb) at 1,250 rpm
Cooling system
Forced air
Air cleaner
Dual type and cyclone
Lubricating system
Forced spray
Fuel system
Zexel PFRIKX fuel injection pump and Zexel DLLA-P injection nozzle
Fuel consumption
180-190 g/HPh
Fuel tank capacity
4.6 L (1.22 US. gal. 1.01 Imp. gal.)
Fuel used
Diesel fuel
Starting system
Recoil starter, starter motor
Stoping system
Ignition primary circuit ground
Governor
Centrifugal governor
PTO shaft rotation
Counterclockwise (from PTO shaft side)
Dimensions (L x W X H)
440 x 405 x 490 mm (17.3 x 15.9 x 19.3 in)
Dry weight
54.0 kg (119 lbs)
Cylinder Block and Head
Cylinder block
Compression ratio:
18.2:1, 19.4:1 or 20.0:1
Cylinder bore:
82.0 mm (3.23 in)
Piston stroke:
78.0 mm (3.07 in)
Cylinder internal diameter (standard):
82.000-82.017 mm (3.2283-3.229 in)
Piston skirt outer diameter (standard):
81.940-81.960 mm (3.226-3.2268 in)
Number of piston rings (compression / oil):
2/1
Connecting rod big end diameter (standard):
46.000-46.024 mm (1.811-1.812 in)
Connecting rod small end diameter (standard):
23.010-23.028 mm (0.9059-0.9066 in)
Side clearance (Top):
0.085-0.115 mm (0.0033-0.0045 in)
Side clearance (Second):
0.075-0.110 mm (0.003-0.0043 in)
Side clearance (Oil):
0.020-0.055 mm (0.0008-0.0022 in)
Ring end gap (Top):
0.250-0.400 mm (0.0098-0.0157 in)
Ring end gap (Second):
0.250-0.400 mm (0.0098-0.0157 in)
Ring end gap (Oil):
0.200-0.400 mm (0.0079-0.0157 in)
Ring width (Top):
1.960-1.975 mm (0.0772-0.0778 in)
Ring width (Second):
1.950-1.970 mm (0.0768-0.0776 in)
Ring width (Oil):
3.970-3.990 mm (0.1563-0.1571 in)
Crankshaft main journal diameter:
49.970-49.994 mm (1.9673-1.9683 in)
Crankpin journal diameter:
42.976-43.000 mm (1.692-1.6929 in)
Crankshaft center distance:
39.000 mm (1.535 in)
Cylinder head
Valve arrangement:
OHV
Valves:
2
Valve steam diameter (INTAKE):
6.575-6.590 mm (0.2589-0.2594 in)
Valve steam diameter (EXHAUST):
6.540-6.550 mm (0.2575-0.2579 in)
Valve spring free length (INTAKE):
33.7 mm (1.3268 in)
Valve spring free length (EXHAUST):
33.7 mm (1.3268 in)
Camshaft lobe height (INTAKE):
41.022 mm (1.615 in)
Camshaft lobe height (EXHAUST):
41.022 mm (1.615 in)
Tightening torque specs
Tightening torque specs
Cylinder head bolts
43 Nm; 4.3 kg·m; 31 ft·lb
Cylinder head nuts
11 Nm; 1.1 kg·m; 8 ft·lb
Rocker arm shaft nuts
11 Nm; 1.1 kg·m; 8 ft·lb
Tappet adjusting nuts
9 Nm; 0.9 kg·m; 6.5 ft·lb
Oil pan bolt bolts
M11: 71 Nm; 7.1 kg·m; 51 ft·lb
M8: 22 Nm; 2.2 kg·m; 16 ft·lb
Connecting rod cap nuts
32 Nm; 3.2 kg·m; 23 ft·lb
Relief valve
33 Nm; 3.3 kg·m; 24 ft·lb
Drain plug bolt
33 Nm; 3.3 kg·m; 24 ft·lb
Flywheel nut
250 Nm; 25.0 kg·m; 180 ft·lb
Injection nozzle
10 Nm; 1.0 kg·m; 7 ft·lb
Air breather joint nuts
18 Nm; 1.8 kg·m; 13 ft·lb
Fuel injection pump bolts
22 Nm; 2.2 kg·m; 16 ft·lb
Fuel joint bolts
28 Nm; 2.8 kg·m; 20 ft·lb
Air breather bolt
18 Nm; 1.8 kg·m; 13 ft·lb
Fuel pipe nuts
20 Nm; 2.0 kg·m; 14 ft·lb
Muffler nuts, bolts
22 Nm; 2.2 kg·m; 16 ft·lb
Fuel tank bolts
11 Nm; 1.1 kg·m; 18 ft·lb
Fuel filter bolts
11 Nm; 1.1 kg·m; 18 ft·lb
Drain bolt
11 Nm; 1.1 kg·m; 18 ft·lb
Service Data
Engine
Maximum speed:
3,700±150 rpm
Idle speed:
1,450±150 rpm
Cylinder compression:
26.0 kg/cm2 (370 psi) at 300 rpm
Valve clearance
Intake valve clearance:
0.13-0.17 mm (0.0051-0.0067 in)
Exhaust valve clearance:
0.13-0.17 mm (0.0051-0.0067 in)
Oil system
Lubrication system:
Forced spray
Oil type:
Diesel oil (API CC or CD)
Recommended oil:
SAE 10W-30
Oil capacity:
1.25 L (1.32 US. qt, 1.1 Imp. qt.)
Oil pressure:
3.9-5.2 kg/cm2 (55.5-74.0 psi) at 3,600 rpm
Generator
Resistance
2.0 ±0.5 Ω
Starter motor
Brush length
14.3-14.7 mm (0.56-0.58 in)
Mica depth
0.4-0.8 mm (0.016-0.031 in)