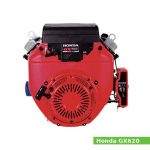 The Honda GX620 U1/R1 is a 614 cc, (37.5 cu·in) natural aspirated V-twin four-stroke air-cooled internal combustion small gasoline engine with a horizontal shaft, manufactured by Honda Motor Company for general-purpose applications.
Cylinder bore and piston stroke are 77.0 mm (3.03 in) and 66.0 mm (2.6 in), respectively. The compression ratio rating is 8.3:1.
The Honda GX620 U1/R1 engine produced 18.4 PS (13.5 kW; 18.1 HP) at 3,600 rpm of maximum output power and 40.6 N·m (4.1 kg·m, 29.9 ft·lb) at 2,500 rpm of peak torque.
The Honda GX620 U1/R1 features:
OHV design
Transistorized magneto ignition system
Horizontal type carburetor with butterfly valve
Centrifugal governor
Forced lubrication system
Forced air cooling system
Recoil or electric starter
General information
Engine Specifications
Engine model
GX620 U1/R1
Engine type
4-stroke, OHV, V-twin
Displacement
614 cm3, (37.47 cu·in)
Max. horsepower
18.4 PS (13.5 kW; 18.0 HP) at 3,600 rpm
Max. torque
40.6 N·m (4.1 kg·m, 29.9 ft·lb) at 2,500 rpm
Cooling system
Forced air
Air cleaner
Dual element type
Lubricating system
Forced lubrication
Ignition system
Transistorized magneto ignition
Fuel system
Horizontal type carburetor with butterfly valve
Fuel consumption
313 g/kWh
Fuel used
Unleaded gasoline (octane number 86 or higher)
Starting system
Recoil or electric starter
Stoping system
Ignition primary circuit ground
Governor
Centrifugal governor
PTO shaft rotation
Counterclockwise (from PTO shaft side)
Dimensions (L x W X H)
388 x 457 x 452 mm (15.3 x 18 x 17.8 in)
Dry weight
42.0 kg (92.6 lbs)
Cylinder Block and Head
Cylinder block
Compression ratio:
8.3:1
Cylinder bore:
77.0 mm (3.03 in)
Piston stroke:
66.0 mm (2.6 in)
Cylinder internal diameter (standard):
77.000 mm (3.0315 in)
Piston skirt outer diameter (standard):
76.985 mm (3.0309 in)
Number of piston rings (compression / oil):
2/1
Connecting rod small end diameter (standard):
18.005 mm (0.7089 in)
Piston pin diameter:
18.000 mm (0.7087 in)
Side clearance (Top):
0.030-0.060 mm (0.0012-0.0024 in)
Side clearance (Second):
0.030-0.060 mm (0.0012-0.0024 in)
Ring end gap (Top):
0.20-0.40 mm (0.0079-0.0157 in)
Ring end gap (Second):
0.20-0.40 mm (0.0079-0.0157 in)
Ring width (Top):
1.990 mm (0.0783 in)
Ring width (Second):
1.990 mm (0.0783 in)
Crankshaft main journal diameter:
38.000 mm (1.4961 in)
Crankpin journal diameter:
39.995 mm (1.5746 in)
Crankshaft center distance:
33.0 mm (1.3 in)
Cylinder head
Valve arrangement:
OHV, gear driven
Valves:
2 ,(4 valves in total)
Valve steam diameter (INTAKE):
6.590 mm (0.2594 in)
Valve steam diameter (EXHAUST):
6.550 mm (0.2579 in)
Valve spring free length (INTAKE):
39.0 mm (1.5354 in)
Valve spring free length (EXHAUST):
39.0 mm (1.5354 in)
Camshaft lobe height (INTAKE):
29.865 mm (1.1758 in)
Camshaft lobe height (EXHAUST):
29.865 mm (1.1758 in)
Camshaft journal diameter :
16.985 mm (0.6687 in)
Tightening torque specs
Tightening torque specs
Connecting rod bolt
12 Nm; 1.2 kg·m; 9 ft·lb
Cylinder head bolt
34 Nm; 3.5 kg·m; 25 ft·lb
Socket bolt
27 Nm; 2.7 kg·m; 20 ft·lb
Flywheel nut
196 Nm; 20.0 kg·m; 145 ft·lb
Pivot bolt
24 Nm; 2.4 kg·m; 17 ft·lb
Pivot adjusting nut
10 Nm; 1.0 kg·m; 7 ft·lb
Cylinder head cover bolt
9 Nm; 0.9 kg·m; 6.5 ft·lb
Oil level switch joint nut
10 Nm; 1.0 kg·m; 7 ft·lb
Oil drain bolt
39 Nm; 4.0 kg·m; 29 ft·lb
Standard torque values
Bolt, nut (5 mm)
5.5 Nm; 0.55 kg·m; 4.0 ft·lb
Bolt, nut (6 mm)
10 Nm; 1.0 kg·m; 7 ft·lb
Bolt, nut (8 mm)
22 Nm; 2.2 kg·m; 16 ft·lb
Bolt, nut (10 mm)
34 Nm; 3.5 kg·m; 25 ft·lb
Bolt, nut (12 mm)
54 Nm; 5.5 kg·m; 40 ft·lb
Service Data
Engine
Maximum speed:
3,850±150 rpm
Idle speed:
1,400 ±150 rpm rpm
Cylinder compression:
6.0-8.0 kg/cm2 (85-121 psi) at 600 rpm
Valve clearance
Intake valve clearance):
0.13-0.17 mm (0.0051-0.0067 in)
Exhaust valve clearance:
0.18-0.20 mm (0.0071-0.0079 in)
Oil system
Lubrication system:
Forced lubrication
Oil type:
Honda 4-stroke or an equivalent (SG or SF)
Recommended oil:
SAE 10W-30 or 10W-40
Oil capacity:
1.50 L (1.59 US. qt, 1.32 Imp. qt.)
Fuel system
Type:
Horizontal type carburetor with butterfly valve
Ignition system
Type:
Transistorized magneto ignition
Ignition timing:
B.T.D.C. 20° (Fixed)
Spark plug:
NGK: ZGR5A DENSO: J16CR-U
Spark plug gap:
0.7-0.8 mm (0.0276-0.0315 in)
Spark plug torque:
18 N·m (1.8 kg·m, 13.3 ft·lb)
Ignition coil air gap
0.2-0.6 mm (0.0079-0.0236 in)