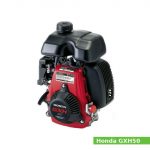 The Honda GXH50 is a 49 cc (2.99 cu·in) natural aspirated single-cylinder four-stroke air-cooled internal combustion gasoline engine with a horizontal shaft, manufactured by Honda Motor Company for general-purpose applications.
It has an 41.8 mm (1.65 in) cylinder bore and 36.0 mm (1.42 in) piston stroke. The compression ratio rating is 8.0:1.
The GXH50 engine produced 2.4 PS (1.8 kW; 2.4 HP) at 7,000 rpm of maximum horsepower and 3.04 N·m (0.3 kg·m, 2.2 ft·lb) at 4,500 rpm of maximum torque.
The Honda GXH50 features:
OHV design
Transistorized magneto ignition system
Float type carburetor
Centrifugal governor
Splash lubrication system
Forced air cooling system
Recoil starter
General information
Engine Specifications
Engine model
GXH50
Engine type
4-stroke, OHV, single-cylinder
Displacement
49 cm3, (2.99 cu·in)
Max. horsepower
2.4 PS (1.8 kW; 2.4 HP) at 7,000 rpm
Max. torque
3.04 N·m (0.3 kg·m, 2.2 ft·lb) at 4,500 rpm
Cooling system
Forced air
Air cleaner
Semi-dry type
Lubricating system
Splash
Ignition system
Transistorized magneto ignition
Fuel system
Float type carburetor
Fuel consumption
240 g/HPh
Fuel tank capacity
0.77 L (0.2 US. gal. 0.17 Imp. gal.)
1.2 L (0.32 US. gal, 0.26 Imp. gal.)
Starting system
Recoil starter
Stoping system
Ignition primary circuit ground
Governor
Centrifugal governor
PTO shaft rotation
Counterclockwise (from PTO shaft side)
Dimensions (L x W X H)
225 x 274 x 353 mm (8.9 x 10.8 x 13.9 in)
Dry weight
5.5 kg (12.1 lbs)
Cylinder Block and Head
Cylinder block
Compression ratio:
8.0:1
Cylinder bore:
41.8 mm (1.65 in)
Piston stroke:
36.0 mm (1.42 in)
Cylinder internal diameter (standard):
41.800-41.815 mm (1.6457-1.6463 in)
Piston skirt outer diameter (standard):
41.770-41.790 mm (1.6445-1.6453 in)
Number of piston rings (compression / oil):
2/1
Connecting rod small end diameter (standard):
10.006-10.007 mm (0.3939-0.394 in)
Connecting rod center distance:
15.000-15.011 mm (0.5906-0.591 in)
Side clearance (Top):
0.015-0.050 mm (0.0006-0.002 in)
Side clearance (Second):
0.015-0.050 mm (0.0006-0.002 in)
Ring end gap (Top):
0.150-0.300 mm (0.0059-0.0118 in)
Ring end gap (Second):
0.150-0.300 mm (0.0059-0.0118 in)
Ring width (Top):
0.770-0.790 mm (0.0303-0.0311 in)
Ring width (Second):
0.970-0.990 mm (0.0382-0.039 in)
Crankpin journal diameter:
14.973-14.984 mm (0.5895-0.5899 in)
Cylinder head
Valve arrangement:
OHV, gear driven
Valves:
2
Valve steam diameter (INTAKE):
3.970-3.985 mm (0.1563-0.1569 in)
Valve steam diameter (EXHAUST):
3.935-3.950 mm (0.1549-0.1555 in)
Valve spring free length (INTAKE):
23.7 mm (0.9331 in)
Valve spring free length (EXHAUST):
23.7 mm (0.9331 in)
Camshaft lobe height (INTAKE):
27.972 mm (1.1013 in)
Camshaft lobe height (EXHAUST):
27.972 mm (1.1013 in)
Tightening torque specs
Tightening torque specs
Spark plug
12 Nm; 1.2 kg·m; 8.6 ft·lb
Connecting rod bolt
6 Nm; 0.6 kg·m; 4.3 ft·lb
Crankcase cover bolt
7.5 Nm; 0.75 kg·m; 5.4 ft·lb
Oil case bolt
7.5 Nm; 0.75 kg·m; 5.4 ft·lb
Flywheel nut
22 Nm; 2.2 kg·m; 16 ft·lb
Igniton coil bolt
6 Nm; 0.6 kg·m; 5 ft·lb
Carburetor drain screw
1.2 Nm; 0.12 kg·m; 0.9 ft·lb
Carburetor drain bolt
4.5 Nm; 0.45 kg·m; 3.3 ft·lb
Others
4 mm bolts, nuts
3.5 Nm; 0.35 kg·m; 2.5 ft·lb
5 mm bolts, nuts
5.5 Nm; 0.55 kg·m; 4.0 ft·lb
6 mm bolts, nuts
10 Nm; 1.0 kg·m; 7 ft·lb
Service Data
Engine
Maximum speed:
7,800 ± 150 rpm
Idle speed:
2,500 ± 20 rpm
Cylinder compression:
4.3 kg/cm2 (61 psi) at 1,000 rpm
Valve clearance
Intake valve clearance:
0.06-0.10 mm (0.0024-0.0039 in)
Exhaust valve clearance:
0.09-0.13 mm (0.0035-0.0051 in)
Oil system
Lubrication system:
Splash
Oil type:
Honda 4-stroke or an equivalent (SE or SF)
Recommended oil:
SAE 10W-30
Oil capacity:
0.25 L (0.26 US. qt, 0.22 Imp. qt.)
Fuel system
Type:
Float type carburetor
Main jet:
#55
Float height:
12.0 mm (0.4724 in)
Pilot screw opening:
1-1/8 turns out
Ignition system
Type:
Transistorized magneto ignition
Ignition timing:
30° B.T.D.C.
Spark plug:
NGK: CR5HSB DENSO: U16FSR-UB
Spark plug gap:
0.6-0.7 mm (0.0236-0.0276 in)
Spark plug torque:
12 N·m (1.2 kg·m, 8.8 ft·lb)
Ignition coil air gap
0.3-0.5 mm (0.0118-0.0197 in)