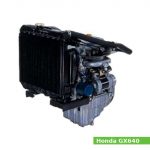 The Honda GX640 is a 635 cc, (38.7 cu·in) natural aspirated two-cylinders four-stroke liquid-cooled internal combustion small gasoline engine with a horizontal shaft, manufactured by Honda Motor Company for general-purpose applications.
The cylinder bore is 76.0 mm (2.99 in) and the piston stroke is 70.0 mm (2.76 in). The compression ratio rating is 8.0:1.
The Honda GX640 engine produced 20.0 PS (14.7 kW; 19.7 HP) at 3,600 rpm of maximum output power and 46.1 N·m (4.7 kg·m, 34 ft·lb) at 2,500 rpm of peak torque.
The Honda GX640 features:
OHV design
C.D.I.(Capacitor Discharge Ignition) type magneto ignition system
Horizontal type carburetor with butterfly valve
Centrifugal governor
Forced oil by trochoid pump lubrication system
Liquid-cooled cooling system
Electric starter
General information
Engine Specifications
Engine model
GX640
Engine type
4-stroke, OHV, two-cylinders
Displacement
635 cm3, (38.7 cu·in)
Max. horsepower
20.0 PS (14.7 kW; 19.7 HP) at 3,600 rpm
Max. torque
46.1 N·m (4.7 kg·m, 34 ft·lb) at 2,500 rpm
Cooling system
Liquid-cooled
Air cleaner
Dual-element type
Lubricating system
Forced oil by trochoid pump
Ignition system
C.D.I.(Capacitor Discharge Ignition) type magneto ignition
Fuel system
Horizontal type carburetor with butterfly valve
Fuel used
Unleaded gasoline (octane number 86 or higher)
Starting system
Electric starter
Stoping system
Cut off the power supply to the CDI
Governor
Centrifugal governor
PTO shaft rotation
Counterclockwise (from PTO shaft side)
Dimensions (L x W X H)
449 x 420 x 551 mm (17.7 x 16.5 x 21.7 in)
Dry weight
57 kg (125.7 lbs)
Cylinder Block and Head
Cylinder block
Compression ratio:
8.0:1
Cylinder bore:
76.0 mm (2.99 in)
Piston stroke:
70.0 mm (2.76 in)
Cylinder internal diameter (standard):
76.000-76.015 mm (2.9921-2.9927 in)
Piston skirt outer diameter (standard):
75.970-75.990 mm (2.9909-2.9917 in)
Piston pin diameter:
18.994-19.000 mm (0.7478-0.748 in)
Side clearance (Top):
0.030-0.060 mm (0.0012-0.0024 in)
Side clearance (Second):
0.030-0.060 mm (0.0012-0.0024 in)
Ring end gap (Top):
0.250-0.400 mm (0.0098-0.0157 in)
Ring end gap (Second):
0.250-0.400 mm (0.0098-0.0157 in)
Ring width (Top):
1.175-1.190 mm (0.0463-0.0469 in)
Ring width (Second):
1.175-1.190 mm (0.0463-0.0469 in)
Crankshaft main journal diameter:
39.976-40.000 mm (1.5739-1.5748 in)
Crankpin journal diameter:
37.976-38.000 mm (1.4951-1.4961 in)
Crankshaft center distance:
35 mm (1.38 in)
Cylinder head
Valve arrangement:
OHV
Valves:
2,(4 valves in total)
Valve steam diameter (INTAKE):
4.980-4.990 mm (0.1961-0.1965 in)
Valve steam diameter (EXHAUST):
4.960-4.970 mm (0.1953-0.1957 in)
Valve spring free length (INTAKE):
38.64 mm (1.5213 in)
Valve spring free length (EXHAUST):
38.64 mm (1.5213 in)
Camshaft lobe height (INTAKE):
30.67-30.95 mm (1.2075-1.2185 in)
Camshaft lobe height (EXHAUST):
30.71-30.99 mm (1.2091-1.2201 in)
Camshaft journal diameter :
27.959-27.980 mm (1.1007-1.1016 in)
Tightening torque specs
Tightening torque specs
Cylinder head bolt
55 Nm; 5.5 kg·m; 40 ft·lb
Crankcase – cylinder block (M8)
22 Nm; 2.2 kg·m; 16 ft·lb
Crankcase – cylinder block (M10)
44 Nm; 4.4 kg·m; 32 ft·lb
Connecting rod cup nut
29 Nm; 2.9 kg·m; 21 ft·lb
Flywheel bolt
71 Nm; 7.1 kg·m; 51 ft·lb
Timing belt driven pulley bolt
30 Nm; 3.0 kg·m; 22 ft·lb
Oil drain bolt
34 Nm; 3.4 kg·m; 25 ft·lb
Oil filter
8 Nm; 0.8 kg·m; 6 ft·lb
Governot slider shaft
43 Nm; 4.3 kg·m; 31 ft·lb
Tension arm bolt
40 Nm; 4.0 kg·m; 29 ft·lb
PTO shaft bolt
32 Nm; 3.2 kg·m; 23 ft·lb
Oil pressure switch
8.5 Nm; 0.85 kg·m; 6.1 ft·lb
Thermo switch
12 Nm; 1.2 kg·m; 9 ft·lb
Standard torque values
Bolt, nut (5 mm)
5.5 Nm; 0.55 kg·m; 4.0 ft·lb
Bolt, nut (6 mm)
10 Nm; 1.0 kg·m; 7 ft·lb
Bolt, nut (8 mm)
24 Nm; 2.4 kg·m; 17 ft·lb
Bolt, nut (10 mm)
37.5 Nm; 3.75 kg·m; 27 ft·lb
Bolt, nut (12 mm)
55 Nm; 5.5 kg·m; 40 ft·lb
Service Data
Engine
Maximum speed:
3,000 rpm type: 3,050-3,150 rpm
3,600 rpm type: 3,550-3,750 rpm
Idle speed:
1,300-1,400 rpm
Cylinder compression:
392-685 kPa, (4.0-7.0 kgf/cm2), 56.9 to 99.6 psi / 350
Valve clearance
Intake valve clearance:
0.10-0.14 mm (0.0039-0.0055 in)
Exhaust valve clearance:
0.18-0.22 mm (0.0071-0.0087 in)
Cooling system
Coolant capacity (radiator and engine)
3.5 L (3.70 US qt, 3.08 Imp qt)
Coolant capacity (reserve tank)
0.4 L (0.42 US qt, 0.35 Imp qt)
Coolant capacity (total system)
3.9 L (4.12 US qt, 3.43 Imp qt)
Thermostat
Start opening
82° C (180° F)
Fully open
95° C (203° F)
Lift height
8.0 mm (0.31 in)
Thermoswitch
Temperature range for continuity
110° ± 2° C (230° ± 36° C)
Oil system
Lubrication system:
Forced oil by trochoid pump
Oil type:
Honda 4-stroke or an equivalent (SE or SF)
Recommended oil:
SAE 10W-30
Oil capacity:
Without oil firter replacement: 2.0 L (2.11 US. qt, 1.76 Imp. qt.)
With oil firter replacement: 2.3 L (2.43 US. qt, 2.02 Imp. qt.)
Oil pressure
294-392 kPa (3.0-4.0 kg/cm2, 43-57 psi) at 350 rpm
Oil pump
Tip clearance (standard)
0.14 mm (0.006 in)
Outer rotor clearance (standard)
0.15-0.21 mm (0.006-0.008 in)
Pump end clearance
0.04-0.09 mm (0.0016-0.0035 in)
Fuel system
Type:
Horizontal type carburetor with butterfly valve
Main jet:
#98
Float height:
14.0 mm (0.5512 in)
Pilot screw opening:
1-1/2 turns out
Ignition system
Type:
C.D.I.(Capacitor Discharge Ignition) type magneto ignition
Ignition timing:
22° B.T.D.C.
Spark plug:
NGK: BPR5ES-11 NIPPONDENSO: W16EPR-11
Spark plug gap:
1.0-1.1 mm (0.0394-0.0433 in)