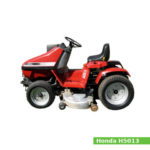 The Honda H5013 is a lawn tractor with Honda GXV390 vertical general-purpose engine (389 cc, 23.7 cu-in) and selective sliding eight speeds forward and four speeds reverse transmission. The Honda H5013 was produced from 1991 to 1999.
The Honda GXV390 is an air-cooled single-cylinder four-stroke gasoline engine with a vertical PTO shaft. It has an 88.0 mm (3.46 in) of the cylinder bore and 64.0 mm (2.5 in) of the piston stroke. The compression ratio rating is 7.7:1. The Honda GXV390 motor produces 13.0 HP (9.7 kW) at 3,600 rpm of max. power and 28.0 Nm (2.8 kg·m, 20.3 ft·lb) at 2,500 rpm of peak torque.
The Honda H5013 tractor is equipped with a mechanical leading-trailing shoe type brakes and pinion-and-sector four-wheel steering. The tractor has 150 mm (5.9 in.) of ground clearance.
General information
General Specifications
Model
Honda H5013
Modifications
A4 type – two and four-wheel drive;
A2 type – two-wheel drive only
Length
2,190 mm (86.2 in)
Width
1,060 mm (41.7 in)
Height
1,758 mm ( 70.3 in)
Wheel base
1,305 mm (51.4 in.)
Dry weight (without tines)
A4 type: 465.0 kg (1025.0 lbs)
A2 type: 430.0 kg (948.0 lbs)
Wheel tread
Front: 855 mm (33.7 in.)
Rear: 850 mm (33.5 in.)
Groundclearance
150 mm (5.9 in.)
Fuel tank capacity
8.5 l (2.2 US gal.)
Engine
Engine model
Honda GXV390
Displacement
389 cm3 (23.7 cu-in)
Bore x stroke
88.0 X 64.0 mm (3.46 x 2.5 in)
Max. horsepower
13.0 HP (9.7 kW) at 3600 rpm
Max. torque
28.0 Nm (2.8 kg·m, 20.3 ft·lb) at 2,500 rpm
Carburetor
Horizontal type, butterfly valve
Cooling system
Forced-air
Ignition system
Transistorized magneto ignition
Lubricating system
Pressure and splash
Starting system
Electric starter
Stoping system
Ignition primary circuit ground
Fuel used
Unleaded gasoline (octane number 86 or higher)
Transmission
Gear type
Selective sliding 8 speeds forward and 4 speeds reverse transmission
Gear selections
8 forward, 4 reverse
Groung speeds
Forward:
1 (L-1): 0.7 km/h (0.4 mph)
2 (H-1): 1.1 km/h (0.7 mph)
3 (L-2): 1.5 km/h (0.9 mph)
4 (H-2): 2.3 km/h (1.4 mph)
5 (L-3): 3.2 km/h (2.0 mph)
6 (H-3): 5.1 km/h (3.2 mph)
7 (L-4): 6.8 km/h (4.2 mph)
8 (H-4): 10.7 km/h (6.6 mph)

Reverse:
1 (L-R1): 0.8 km/h (0.5 mph)
2 (H-R1): 1.3 km/h (0.8 mph)
3 (H-R2): 1.7 km/h (1.1 mph)
4 (H-R2): 2.7 km/h (1.7 mph)

Frame
Brakes
Mechanical leading-trailing shoe type brake (rear wheels)
Steering
Pinion-and-sector four-wheel steering
Hydraulic system
Working pressure
90 kg/cm2 (1,280 psi)
Pump type
Gear pump
Oil capacity
1.8 L (1.9 US. qt)
1.95 L (2.1 US.qt) with rear hydraulic lift
Wheels and tires
Front tires size
20×7.0-12
Front tires pressure
98 kPa (1.0 kg/cm2, 14 psi)
Rear tires size
24.5×8-14
Rear tires pressure
78 kPa (0.8 kg/cm2, 11 psi)
Maintenance data
Engine
Maximum speed
3,700 ± 150 rpm
Idle speed
1,750 ± 150 rpm
Cylinder compression
5.0-8.5 kg/cm2 (71-151 psi) at 600 rpm
Valve clearance
Intake valve
0.10 ± 0.02 (0.004 ± 0.001)
Exhaust valve
0.15 ± 0.02 (0.006 ± 0.001)
Oil system
Oil type
Honda 4-stroke or an equivalent (SF or SG)
Recommended oil
SAE 10W-30
Oil capacity
1.1 L (1.2 US gal, 1.0 lmp qt)
Ignition system
Ignition timing
20 ° B.T.D.C (Fixed)
Spark plug
NGK: BPR5ES
NIPPONDENSO: W16EPR-U
Spark plug gap
0.7-0.8 mm (0.028-0.031 in)
Primary ignition coil resistance
0.7-0.9 Ω
Secondary ignition coil resistance
6.3-7.7 kΩ
Ignition coil air gap
0.4 ± 0.2 (0.016 ± 0.008)
Starter motor
Brush length
7.2 mm (0.28 in) limit: 3.5 mm (0.14 in)
Mica depth
1.0 mm (0.04 in) limit: 0.2 mm (0.01 in)
Transmission
Transmission oil capacity
3.8 L (4.0 US.qt)
Front differential oil capacity
0.45 L (0.48 US.qt)
Final riduction oil capacity
0.2 L (0.21 US.qt)
Electrical system
Battery
12V-30AH or 12V-35AH (optinal)
Headlight
12V-25W
Oil warning indicator
12V-1.7W
Attachments
Honda MM46: 46″ mid-mount mower deck with 3-blade
Cutting width
1,160 mm (46 in)
Honda DB752A: 46″ front-mount blade
Cutting width
1,160 mm (46 in)
Honda DB5054: 54″ front-mount blade
Cutting width
1,370 mm (54 in)
Honda 42″ front-mount two-stage snowblower
Width
1,060 mm (42 in)