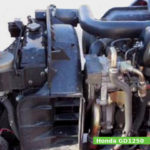 The Honda GD1250 is a 1.2 L (1,235 cc, 75.4 cu·in) natural aspirated three-cylinders four-stroke liquid-cooled internal combustion small diesel engine with a horizontal shaft, manufactured by Honda Motor Company for general-purpose applications.
An 82.0 mm (3.23 in) cylinder bore and 78.0 mm (3.07 in) piston stroke give the GD1250 engine a total of 1,235 cc of displacement. The compression ratio rating is 18.0:1.
This engine produced from 20.3 PS (14.9 kW; 20.0 HP) at 2,600 rpm to 24.3 PS (17.9 kW; 24.0 HP) at 3,600 rpm of horsepower.
The Honda GD1250 features:
OHV design
Direct injection
Centrifugal governor
Forced lubrication system
Liquid-cooled cooling system
Starter motor
General information
Engine Specifications
Engine model
GD1250
Engine type
4-stroke, OHV, three-cylinders
Displacement
1,235 cm3, (75.4 cu·in)
Max. horsepower
SH1: 20.3 PS (14.9 kW; 20.0 HP) at 2,600 rpm
SH2: 22.3 PS (16.4 KW; 22.0 HP) at 3,000 rpm
SH3: 24.3 PS (17.9 kW; 24.0 HP) at 3,600 rpm
Max. torque
SH1: 64.7 N·m (6.6 kg·m, 47.73 ft·lb) at 2,600 rpm
SH2: 61.8 N·m (6.3 kg·m, 45.56 ft·lb) at 2,000 rpm
SH3: 55.9 N·m (5.7 kg·m, 41.22 ft·lb) at 2,200 rpm
Cooling system
Liquid-cooled
Air cleaner
Dual type and cyclone
Lubricating system
Forced oil by trochoid pump
Fuel system
Direct injection
Fuel consumption
SH1: 180 g/psh
SH2: 194 g/psh
SH3: 214 g/psh
Fuel tank capacity
20.0 L (5.28 US. gal. 4.4 Imp. gal.)
Fuel used
Diesel fuel
Starting system
Starter motor
Governor
Centrifugal governor
PTO shaft rotation
Counterclockwise (from PTO shaft side)
Dimensions (L x W X H)
520 x 415 x 540 mm (20.5 x 16.3 x 21.3 in)
Dry weight
100 kg (220.5 lbs)
Cylinder Block and Head
Cylinder block
Compression ratio:
18.0:1
Cylinder bore:
82.0 mm (3.23 in)
Piston stroke:
78.0 mm (3.07 in)
Cylinder internal diameter (standard):
82.000-82.017 mm (3.2283-3.229 in)
Piston skirt outer diameter (standard):
81.930-81.950 mm (3.2256-3.2264 in)
Number of piston rings (compression / oil):
2/1
Connecting rod small end diameter (standard):
23.010-23.028 mm (0.9059-0.9066 in)
Piston pin diameter:
22.994-23.000 mm (0.9053-0.9055 in)
Side clearance (Top):
0.082-0.115 mm (0.0032-0.0045 in)
Side clearance (Second):
0.055-0.085 mm (0.0022-0.0033 in)
Side clearance (Oil):
0.020-0.055 mm (0.0008-0.0022 in)
Ring end gap (Top):
0.200-0.400 mm (0.0079-0.0157 in)
Ring end gap (Second):
0.200-0.400 mm (0.0079-0.0157 in)
Ring end gap (Oil):
0.200-0.400 mm (0.0079-0.0157 in)
Crankshaft center distance:
39 mm (1.535 in)
Cylinder head
Valve arrangement:
OHV
Valves:
2, (6 valves in total)
Valve steam diameter (INTAKE):
6.575-6.590 mm (0.2589-0.2594 in)
Valve steam diameter (EXHAUST):
6.545-6.560 mm (0.2577-0.2583 in)
Valve spring free length (INTAKE):
38.1 mm (1.5 in)
Valve spring free length (EXHAUST):
38.1 mm (1.5 in)
Camshaft lobe height (INTAKE):
39.538-39.938 mm (1.5566-1.5724 in)
Camshaft lobe height (EXHAUST):
39.538-39.938 mm (1.5566-1.5724 in)
Tightening torque specs
Tightening torque specs
Camshaft holder bolts
22 Nm; 2.2 kg·m; 16 ft·lb
Head cover nuts
10 Nm; 1.0 kg·m; 7 ft·lb
Cylinder head bolts (M12)
Step 1: 45 Nm; 4.5 kg·m; 32 ft·lb
Step 2: Turn all bolts 90°
Step 3: Turn all bolts 90° once more
Cylinder head bolts (M8)
30 Nm; 3.0 kg·m; 22 ft·lb
Timing belt driven pulley bolt
38 Nm; 3.8 kg·m; 27 ft·lb
Timing belt adjuster bolt
43 Nm; 4.3 kg·m; 31 ft·lb
Crankshaft bearing cap bolts
68 Nm; 6.8 kg·m; 49 ft·lb
Connecting rod cap nuts
32 Nm; 3.2 kg·m; 23 ft·lb
Rear end plate bolts
55 Nm; 5.5 kg·m; 40 ft·lb
Flywheel bolts
115 Nm; 11.5 kg·m; 83 ft·lb
Flywheel housing
55 Nm; 5.5 kg·m; 40 ft·lb
Oil filter holder
55 Nm; 5.5 kg·m; 40 ft·lb
Oil filter cartridge
22 Nm; 2.2 kg·m; 16 ft·lb
Fuel pipe nuts
22.5 Nm; 2.25 kg·m; 16.3 ft·lb
Fuel joint bolts
22.5 Nm; 2.25 kg·m; 16.3 ft·lb
Injection nozzle nuts
Step 1: 5 Nm; 0.5 kg·m; 3.6 ft·lb
Step 2:10 Nm; 1.0 kg·m; 7 ft·lb
Governor shaft
43 Nm; 4.3 kg·m; 31 ft·lb
Glow plugs
17.5 Nm; 1.75 kg·m; 12.7 ft·lb
Glow plug nuts
1.25 Nm; 0.125 kg·m; 0.9 ft·lb
Injection pump nut and bolts
22 Nm; 2.2 kg·m; 16 ft·lb
Oil pressure switch
20 Nm; 2.0 kg·m; 14 ft·lb
Drain plug bolt
45 Nm; 4.5 kg·m; 32 ft·lb
Thermostat switch
22.5 Nm; 2.25 kg·m; 16.3 ft·lb
Crankshaft pulley
115 Nm; 11.5 kg·m; 83 ft·lb
Service Data
Idle speed:
800 rpm
Maximum speed:
SH1: 2,750 rpm
SH2: 3,120 rpm
SH3: 3,740 rpm
Cylinder compression:
27.0 kg/cm2 (384 psi) at 200 rpm
Valve clearance
Intake valve clearance:
0.18-0.22 mm (0.0071-0.0087 in)
Exhaust valve clearance:
0.18-0.22 mm (0.0071-0.0087 in)
Oil system
Lubrication system:
Forced spray
Oil type:
Diesel oil (API CC or CD)
Recommended oil:
SAE 10W-30
Oil capacity:
SH1: 2.9 l (3.07 US. qt, 2.55 Imp. qt.)
SH2, SH3: 4.8 l (5.07 US. qt, 4.22 Imp. qt.)
Oil pressure:
4.0 kg/cm2 (57 psi) at 800 rpm
Fuel system
Type:
Direct injection
Injection timing:
SH1, SH2: B.T.D.C 15°
SH3: B.T.D.C 18°
Applications
Manufacturer or Brand
Models
Lawn tractors
Honda
H6522