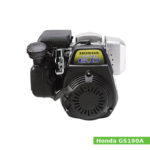 The Honda GS190A is a 187 cc, (11.4 cu·in) natural aspirated single-cylinder four-stroke air-cooled internal combustion small gasoline engine with a horizontal shaft, manufactured by Honda Motor Company for general-purpose applications.
The cylinder bore is 69.0 mm (2.72 in) and the piston stroke is 50.0 mm (1.97 in). The compression ratio rating is 8.5:1.
The Honda GS190A engine produced 6 PS (4.4 kW; 6.0 HP) at 3,600 rpm of maximum output power and 12.1 N·m (1.2 kg·m, 8.9 ft·lb) at 2,500 rpm of peak torque.
The Honda GS190A features:
OHC design
Transistorized magneto ignition system
Horizontal type carburetor with butterfly valve
Centrifugal governor
Splash lubrication system
Forced air cooling system
Recoil starter
General information
Engine Specifications
Engine model
GS190A
Engine type
4-stroke, OHV, single-cylinder
Displacement
187 cm3, (11.41 cu·in)
Max. horsepower
6.0 PS (4.4 kW; 6.0 HP) at 3,600 rpm
Max. torque
12.1 N·m (1.2 kg·m, 8.9 ft·lb) at 2,500 rpm
Cooling system
Forced air
Air cleaner
–
Lubricating system
Splash
Ignition system
Transistorized magneto ignition
Fuel system
Horizontal type carburetor with butterfly valve
Fuel consumption
–
Fuel tank capacity
2.0 L (0.53 US. gal. 0.44 Imp. gal.)
Fuel used
Unleaded gasoline (octane number 86 or higher)
Starting system
Recoil starter
Stoping system
Ignition primary circuit ground
Governor
Centrifugal governor
PTO shaft rotation
Counterclockwise (from PTO shaft side)
Dimensions (L x W X H)
345 x 369 x 343 mm (13.6 x 14.5 x 13.5 in)
Dry weight
13.8 kg (30.4 lbs)
Cylinder Block and Head
Cylinder block
Compression ratio:
8.5:1
Cylinder bore:
69.0 mm (2.72 in)
Piston stroke:
50.0 mm (1.97 in)
Number of piston rings (compression / oil):
2/1
Connecting rod big end diameter (standard):
30.020 mm (1.1819 in)
Connecting rod small end diameter (standard):
13.005 mm (0.512 in)
Side clearance (Top):
0.035-0.065 mm (0.0014-0.0026 in)
Side clearance (Second):
0.015-0.049 mm (0.0006-0.0019 in)
Ring end gap (Top):
0.200-0.350 mm (0.0079-0.0138 in)
Ring end gap (Second):
0.300-0.450 mm (0.0118-0.0177 in)
Ring end gap (Oil):
0.150-0.350 mm (0.0059-0.0138 in)
Crankshaft main journal diameter:
PTO side: 27.993 mm (1.1021 in)
Flywheel side: 25.393 mm (0.9997 in)
Crankpin journal diameter:
29.980 mm (1.1803 in)
Crankshaft center distance:
25.0 mm (0.985 in)
Cylinder head
Valve arrangement:
OHC
Valves:
2
Valve steam diameter (INTAKE):
5.480 mm (0.2157 in)
Valve steam diameter (EXHAUST):
5.440 mm (0.2142 in)
Valve spring free length (INTAKE):
34.0 mm (1.3386 in)
Valve spring free length (EXHAUST):
34.0 mm (1.3386 in)
Tightening torque specs
Tightening torque specs
Crankcase cover
12 Nm; 1.2 kg·m; 8.6 ft·lb
Connecting rod bolt
12 Nm; 1.2 kg·m; 8.6 ft·lb
Valve adjusting lock nut
8 Nm; 0.8 kg·m; 5.8 ft·lb
Cylinder head cover bolt
12 Nm; 1.2 kg·m; 8.6 ft·lb
Oil drain plug bolt
24 Nm; 2.4 kg·m; 17 ft·lb
Flywheel nut
75 Nm; 7.6 kg·m; 55 ft·lb
Governor arm nut
10 Nm; 1.0 kg·m; 7 ft·lb
Muffler bolt
12 Nm; 1.2 kg·m; 8.6 ft·lb
Recoil starter nut
8.5 Nm; 0.85 kg·m; 6.1 ft·lb
Fan cover stud bolt
12 Nm; 1.2 kg·m; 8.6 ft·lb
Spark plug
20 Nm; 2.0 kg·m; 14 ft·lb
Service Data
Engine
Maximum speed:
3,850 ± 150 rpm
Idle speed:
1,400 ± 150 rpm
Cylinder compression:
5.0 kg/cm2 (71 psi) at 600 rpm
Valve clearance
Intake valve clearance:
0.11-0.19 mm (0.0043-0.0075 in)
Exhaust valve clearance:
0.16-0.24 mm (0.0063-0.0094 in)
Oil system
Lubrication system:
Splash
Oil type:
Honda 4-stroke or an equivalent (SE or SF)
Recommended oil:
SAE 10W-30
Oil capacity:
0.55 L (0.58 US. qt, 0.48 Imp. qt.)
Fuel system
Type:
Horizontal type carburetor with butterfly valve
Main jet:
#68
Float height:
9.2 mm (0.3622 in)
Pilot screw opening:
1-3/4 turns out
Ignition system
Type:
Transistorized magneto ignition
Ignition timing:
20° B.T.D.C.
Spark plug:
NGK BPR6ES
Spark plug gap:
0.7-0.8 mm (0.0276-0.0315 in)
Ignition coil air gap
0.2-0.6 mm (0.0079-0.0236 in)