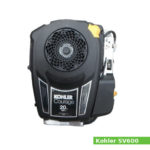 The Kohler SV600 is a 0.6 L (597 cc, 36.43 cu·in) natural aspirated single-cylinder four-stroke air-cooled small gasoline engine with a vertical shaft from the Courage series, manufactured by Kohler Co for general-purpose applications.
The cylinder bore is 94.0 mm (3.7 in) and the piston stroke is 86.0 mm (3.39 in). The compression ratio rating is 8.5:1.
The Kohler Courage SV600 engine produced 20.3 PS (14.9 KW; 20.0 HP) at 3,600 rpm of maximum output power and 46.1 Nm (4.7 kg·m; 34.0 ft·lb) of peak torque.
The Kohler SV600 features:
OHV design
Aluminum head and crankcase with cast iron cylinder liner
Micro-polished crankshaft bearings
Electronic ignition system
Carburetor with fixed main jet (Nikki or Walbro)
Centrifugal governor
Full pressure lubrication with full-flow filter
Forced air cooling system
Electric starter
General information
Engine Specifications
Engine model
Courage SV600
Engine type
4-stroke, OHV, single-cylinder
Displacement
597 cm3, (36.43 cu·in)
Max. horsepower
20.3 PS (14.9 KW; 20.0 HP) at 3,600 rpm
Max. torque
46.1 Nm (4.7 kg·m; 34.0 ft·lb)
Cooling system
Forced air
Air cleaner
Replaceable, paper element
Lubricating system
Pressurized lubrication
Ignition system
Electronic ignition system
Fuel system
Carburetor with fixed main jet (Nikki or Walbro)
Fuel consumption
–
Fuel tank capacity
–
Fuel used
Unleaded gasoline (octane number 86 or higher)
Starting system
Electric starter
Dimensions (L x W X H)
493 x 416 x 328 mm (19.4 x 16.4 x 12.9 in)
Dry weight
35.8 kg (78.9 lbs)
Cylinder Block and Head
Cylinder block
Compression ratio:
8.5:1
Cylinder bore:
94.0 mm (3.7 in)
Piston stroke:
86.0 mm (3.39 in)
Cylinder internal diameter (standard):
94.010-94.035 mm (3.7012-3.7022 in)
Number of piston rings (compression / oil):
2/1
Piston pin diameter:
21.995-22.000 mm (0.8659-0.8661 in)
Side clearance (Top):
0.040 mm (0.0016 in)
Side clearance (Second):
0.040 mm (0.0016 in)
Ring end gap (Top):
0.150-0.400 mm (0.0059-0.0157 in)
Ring end gap (Second):
0.300-0.550 mm (0.0118-0.0217 in)
Crankshaft main journal diameter:
Before S/N 3703200003
Flywheel End: 44.913-44.935 mm (1.768-1.769 in)
PTO End: 41.913-41.935 mm (1.650-1.651 in)

After SN 3703200013
Flywheel End:44.870-44.895 mm (1.766-1.767 in)
PTO End: 41.855-41.880 mm (1.648-1.649 in)

Crankpin journal diameter:
40.982-41.000 mm (1.6135-1.6142 in)
Crankshaft center distance:
43 mm (1.695 in)
Cylinder head
Valve arrangement:
OHV
Valves:
2
Valve head diameter (INTAKE):
37.375-37.625 mm (1.4715-1.4813 in)
Valve head diameter (EXHAUST):
32.125-32.375 mm (1.2648-1.2746 in)
Valve steam diameter (INTAKE):
5.982-6.000 mm (0.2355-0.2362 in)
Valve steam diameter (EXHAUST):
5.970-5.988 mm (0.235-0.2357 in)
Service Data
Valve clearance
Intake valve lash:
0.127 mm (0.005 in)
Exhaust valve lash:
0.178 mm (0.007 in)
Oil system
Lubrication system:
Pressurized lubrication
Oil type:
SJ or higher
Recommended oil:
SAE 10W-30
Oil capacity:
1.5 L (1.59 US. qt, 1.32 Imp. qt.)
Fuel system
Type:
Carburetor with fixed main jet (Nikki or Walbro)
Ignition system
Type:
Electronic ignition system
Spark plug:
Champion RC12YC
Spark plug gap:
0.76 mm (0.0299 in)
Spark plug torque:
27 N·m (2.8 kg·m, 19.9 ft·lb)
Tightening torque specifications
Valve clearance
Cylinder Head
20.5-41.0 Nm (15-30 ft-lb)
Rocker Arm Pivot Stud
13.5 Nm (10 ft-lb)
Rocker Arm Adjustment Nut Set Screw
5.5 Nm (4.2 ft-lb)
Flywheel Retaining Screw
66.5 Nm (49 ft-lb)
Connecting Rod Cap
11.5 Nm (8.5 ft-lb)
Cam Lever
7.5 Nm (5.4 ft-lb)
Oil Drain Plug
14.0 Nm (10.4 ft-lb)
Fuel Bowl Retaining Screw Torque
5.1-6.2 Nm (3.8-4.6 ft-lb)
Balance Weight Screw
10.0 Nm (7.5 ft-lb)
Air Cleaner Base Mounting Screw
8.0 Nm (5.8 ft-lb)
Electric Starter Mounting Nut
3.6 Nm (2.7 ft-lb)
Ignition Module
6.0 Nm (4.5 ft-lb)
Muffler Retaining Nuts
24.4 Nm (18 ft-lb)
Oil Filter
10-13 Nm (7.5-10.1 ft-lb)
Oil Pump Mounting Screw
4.0 Nm (2.9 ft-lb)
Rectifier-Regulator Mounting Screw
6.0 Nm (4.5 ft-lb)
Speed Control Bracket Assembly
11.0 Nm (8.2 ft-lb)
Governor Control Lever
7.0-8.5 Nm (5.2-6.3 ft-lb)
Applications