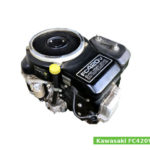 The Kawasaki FC420V is a 423 cc, (25.8 cu·in) natural aspirated single-cylinder four-stroke air-cooled internal combustion small gasoline engine with a vertical shaft, manufactured by Kawasaki Heavy Industries LTd. for general-purpose applications.
The cylinder bore is 89.0 mm (3.5 in) and the piston stroke is 68.0 mm (2.68 in). The compression ratio rating is 8.4:1.
The Kawasaki FC420V engine produced 14.1 PS (10.4 kW; 14.0 HP) at 3,600 rpm of maximum output power and 30.6 N·m (3.1 kg·m, 22.6 ft·lb) at 2,400 rpm of peak torque.
The Kawasaki FC420V features:
OHV design
Cast-iron cylinder liner
Flywheel magneto transistor type ignition system
Float type carburetor with fixed main jet
Diaphragm type pulse pump
Mechanical flyweight governor
Pressurized lubrication system
Forced air cooling system
Recoil or electric starter
General information
Engine Specifications
Engine model
FC420V
Engine type
4-stroke, OHV, single-cylinder
Displacement
423 cm3, (25.8 cu·in)
Max. horsepower
14.1 PS (10.4 kW; 14.0 HP) at 3,600 rpm
Max. torque
30.6 N·m (3.1 kg·m, 22.6 ft·lb) at 2,400 rpm
Cooling system
Forced air
Air cleaner
Semi-dry cyclone type with dual element
Lubricating system
Pressurized lubrication
Ignition system
Flywheel magneto transistor type
Fuel system
Float type carburetor with fixed main jet
Fuel consumption
255 g/HPh
Fuel tank capacity
5.0 liters (5.28 US.qts, 4.4 Imp. qts)
Fuel used
Unleaded gasoline (octane number 86 or higher)
Starting system
Recoil or electric starter
Governor
Mechanical flyweight
PTO shaft rotation
Counterclockwise)
Dimensions (L x W X H)
448 x 423 x 436 mm (17.6 x 16.7 x 17.2 in)
Dry weight
35.2 kg (77.6 lbs)
Cylinder Block and Head
Cylinder block
Compression ratio:
8.4:1
Cylinder bore:
89.0 mm (3.5 in)
Piston stroke:
68.0 mm (2.68 in)
Cylinder internal diameter (standard):
89.076 mm (3.5069 in)
Number of piston rings (compression / oil):
2/1
Connecting rod big end diameter (standard):
41.068 mm (1.6168 in)
Connecting rod small end diameter (standard):
22.059 mm (0.8685 in)
Piston pin diameter:
21.977 mm (0.8652 in)
Side clearance (Top):
0.170 mm (0.0067 in)
Side clearance (Second):
0.150 mm (0.0059 in)
Side clearance (Oil):
0.200 mm (0.0079 in)
Ring end gap (Top):
0.900 mm (0.0354 in)
Ring end gap (Second):
0.900 mm (0.0354 in)
Ring width (Top):
1.940 mm (0.0764 in)
Ring width (Second):
1.940 mm (0.0764 in)
Crankshaft main journal diameter:
PTO side: 34.919 mm (1.3748 in)
Magneto side: 34.945 mm (1.3758 in)
Crankpin journal diameter:
40.928 mm (1.6113 in)
Crankshaft center distance:
34 mm (1.34 in)
Cylinder head
Valve arrangement:
OHV
Valves:
2
Valve steam diameter (INTAKE):
6.930 mm (0.2728 in)
Valve steam diameter (EXHAUST):
6.915 mm (0.2722 in)
Valve spring free length (INTAKE):
37.5 mm (1.4764 in)
Valve spring free length (EXHAUST):
37.5 mm (1.4764 in)
Camshaft lobe height (INTAKE):
36.750 mm (1.4468 in)
Camshaft lobe height (EXHAUST):
36.750 mm (1.4468 in)
Camshaft journal diameter:
Gear side: 20.912 mm (0.8233 in)
Cam side: 19.912 mm (0.7839 in)
Tightening torque
Tightening torque specs
Cylinder head
52 Nm; 5.2 kg·m; 38.3 ft·lb
Connecting rod bolt
20 Nm; 2.0 kg·m; 14.7 ft·lb
Flywheel
137 Nm; 14 kg·m; 101 ft·lb
Crankcase cover bolt
26 Nm; 2.6 kg·m; 19.2 ft·lb
Oil drain plug
23 Nm; 2.3 kg·m; 16.7 ft·lb
Valve clearance adjust nut
20 Nm; 2.0 kg·m; 14.7 ft·lb
Service Data
Engine
Maximum speed:
3,500±100 rpm
Idle speed:
1,500±150 rpm
Cylinder compression:
5.0 kg/cm2 (70 psi)
Valve clearance
Intake valve clearance:
0.15 mm (0.0059 in)
Exhaust valve clearance:
0.15 mm (0.0059 in)
Oil system
Lubrication system:
Pressurized lubrication
Oil type:
4-stroke or an equivalent (SF, SE, SD)
Recommended oil:
SAE 10W-30, 10W-40
Oil capacity:
1.3 L (1.37 US. qt, 1.14 Imp. qt.)
Fuel system
Type:
Float type carburetor with fixed main jet
Fuel Pump:
Diaphragm type pulse pump
Ignition system
Type:
Flywheel magneto transistor type
Spark plug:
NGK BPR5ES, Champion RN11YC
Spark plug gap:
0.7-0.8 mm (0.0276-0.0315 in)
Ignition coil air gap
0.3 mm (0.0118 in)
Spark plug torque
15 Nm (1.53 kg·m; 11.07 ft·lb)
Applications