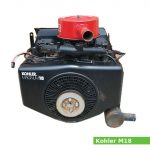 The Kohler Magnum M18 is a 691 cc, (42.2 cu·in) natural aspirated two-cylinders four-stroke air-cooled internal combustion small gasoline engine with a horizontal shaft, for general-purpose applications.
Cylinder bore is 79.0 mm (3.11 in) and piston stroke is 70.0 mm (2.76 in). The compression ratio rating is 6.0:1.
The Kohler M18 engine produced 18.2 PS (13.4 kW; 18.0 HP) at 3,600 rpm of maximum output power.
The Kohler M18 features:
L-head design
Electronic magneto ignition system
Kohler or Walbro carburetor
Centrifugal governor
Full pressure lubrication system with oil filter
Forced air cooling system
Electric starter
General information
Engine Specifications
Engine model
Magnum M18
Engine type
4-stroke, L-head, V-twin
Displacement
691 cm3, (42.2 cu·in)
Max. horsepower
18.2 PS (13.4 kW; 18 HP) at 3,600 rpm
Max. torque
–
Cooling system
Forced air
Air cleaner
Replaceable, paper element
Lubricating system
Full pressure with oil filter
Ignition system
Electronic magneto ignition system
Fuel system
Kohler or Walbro carburetor
Fuel consumption
–
Fuel tank capacity
–
Fuel used
Gasoline (octane number 86 or higher)
Starting system
Electric starter, 12V
Governor
Centrifugal governor
PTO shaft rotation
Counterclockwise (from PTO shaft side)
Dimensions (L x W X H)
341 x 448 x 440 mm (13.4 x 17.6 x 17.3 in)
Dry weight
58.9 kg (129.9 lbs)
Cylinder Block and Head
Cylinder block
Compression ratio:
6.0:1
Cylinder bore:
79.0 mm (3.11 in)
Piston stroke:
70.0 mm (2.76 in)
Cylinder internal diameter (standard):
79.050-79.075 mm (3.1122-3.1132 in)
Piston skirt outer diameter (standard):
78.944-78.961 mm (3.108-3.1087 in)
Number of piston rings (compression / oil):
2/1
Connecting rod small end diameter (standard):
15.825-15.833 mm (0.623-0.6233 in)
Piston pin diameter:
15.805-15.810 mm (0.6222-0.6224 in)
Side clearance (Top):
0.1518 mm (0.006 in)
Side clearance (Second):
0.1518 mm (0.006 in)
Ring end gap (Top):
0.2530-0.5820 mm (0.01-0.0229 in)
Ring end gap (Second):
0.2530-0.5820 mm (0.01-0.0229 in)
Crankshaft main journal diameter:
44.052-44.078 mm (1.7343-1.7354 in)
Crankpin journal diameter:
34.744-34.757 mm (1.3679-1.3684 in)
Crankshaft center distance:
35 mm (1.38 in)
Cylinder head
Valve arrangement:
L-head
Valves:
2,(4 valves in total)
Valve steam diameter (INTAKE):
7.8506 mm (0.3091 in)
Valve steam diameter (EXHAUST):
7.8126 mm (0.3076 in)
Valve Minimum Lift-Zero Lash (INTAKE):
6.9 mm (0.274 in)
Valve Minimum Lift-Zero Lash (EXHAUST):
6.9 mm (0.274 in)
Valve Guide I.D. (Max. Wear) (INTAKE):
0.1265 mm (0.005 in)
Valve Guide I.D. (Max. Wear) (EXHAUST):
0.1771 mm (0.007 in)
Nominal Valve Seat Angle (earlier):
45°
Nominal Valve Seat Angle (later):
30°
Tightening torque settings:

Cylinder Head: 20.0-27.0 Nm; 15.0-20.0 ft·lb;
Connecting Rods (New): 16.0 Nm; 12.0 ft·lb;
Connecting Rods (Used): 11.0 Nm; 8.3 ft·lb;
Flywheel Screw: 54.0 Nm; 40.0 ft·lb;
Manifold Screw/Nut: 17 Nm; 12.5 ft·lb;
Fuel Pump Mounting Screws: 4.2-5.1 Nm; 3.1-3.8 ft·lb
Ignition Module: 3.6 Nm; 2.7 ft·lb
Spark Plugs: 18 Nm; 13.3 ft·lb
Oil Filter: 5.7-9.1 Nm; 4.2-6.7 ft·lb
Closure Plate: 17.0 Nm; 12.5 ft·lb
Service Data
Valve clearance
Intake valve clearance:
0.076-0.152 mm (0.003-0.006 in)
Exhaust valve clearance:
0.278-0.354 mm (0.011-0.014 in)
Oil system
Lubrication system:
Full pressure with oil filter
Oil filter
Full-flow type
Oil type:
SF or SG
Recommended oil:
5W-20, 5W-30, 10W-30, 10W-40
Oil capacity:
With oil filter: 1.6 L (1.69 US. qt, 1.41 Imp. qt.)
W/o oil filter: 1.4 L (1.48 US. qt, 1.23 Imp. qt.)
Oil pressure:
More then 3.5 kg/cm2, 50 psi
Fuel system
Fuel pump type
Mechanical
Fuel filter type
In-line
Type:
Kohler or Walbro carburetor
Main fuel:
Kohler: 2-1/2 turns
Walbro (fixed jet): Not adjust
Walbro (adjustable jet): 1-1/4 turns
Low idle:
Kohler: 1 turn
Walbro: 1-1/4 turns
Ignition system
Type:
Electronic magneto ignition system
Spark plug:
Champion RV17YC
Spark plug gap:
0.89 mm (0.035 in)
Spark plug torque:
18 N·m (1.8 kg·m, 13.3 ft·lb)
Ignition coil air gap
0.2-0.3 mm (0.0079-0.0118 in)
Applications