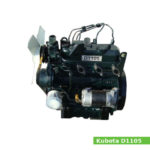 The Kubota D1105 is a 1.1 L (1,123 cc, 68.5 cu·in) natural aspirated three-cylinders four-stroke liquid-cooled internal combustion small diesel engine, manufactured by Kubota for general-purpose applications.
A 78.0 mm (3.07 in) cylinder bore and 78.4 mm (3.09 in) piston stroke give the D1105 engine a total of 1,123 cc of displacement. The compression ratio rating is 22.0:1 for model D1105-B(E) or 24.0:1 for models D1105-E2B,-E3B,-E4B.
The Kubota D1105 diesel engine produced 25.4 PS (18.7 kW; 25.0 HP) at 3,000 rpm of net output power and 68.3 N·m (7 kg·m, 50.3 ft·lb) at 2,000 rpm of peak torque.
The Kubota D1105 features:
SOHC design
Spherical type (E-TVCS) combustion chamber
Bosch MD type mini fuel injection pump
All speed mechanical governor
Forced lubrication by trochoid pump lubrication system
Liquid-cooled cooling system
Electric starting with 12V starter
General information
Engine Specifications
Engine model
D1105
Engine type
4-stroke, SOHC, three-cylinders
Displacement
1.1 L, 1,123 cm3, (68.5 cu·in)
Max. horsepower
25.4 PS (18.7 kW; 25.0 HP) at 3,000 rpm
Max. torque
68.3 N·m (7 kg·m, 50.3 ft·lb) at 2,000 rpm
Cooling system
Liquid-cooled
Lubricating system
Forced lubrication by trochoid pump
Fuel injection pump
Bosch MD type mini fuel injection pump
Fuel nozzle
Mini nozzle
Fuel used
Diesel fuel No. 2-D
Firing order
1-2-3
Starting system
Electric starting with 12V starter
Starting support device
Glow plug in combustion chamber
Governor
All speed mechanical governor
Charging system
Alternator 12V,
PTO shaft rotation
Counterclockwise
Dimensions (L x W X H)
498 x 397 x 609 mm (19.6 x 15.6 x 24 in)
Dry weight
95 kg (210 lbs)
Cylinder Block and Head
Cylinder block
Compression ratio:
D1105-B(E): 22.0:1
D1105-E2B, D1105-E3B, D1105-E4B: 24.0:1
Cylinder bore:
78.0 mm (3.07 in)
Piston stroke:
78.4 mm (3.09 in)
Cylinder internal diameter (standard):
78.00-78.019 mm (3.0709-3.0716 in)
Number of piston rings (compression / oil):
2/1
Connecting rod small end diameter (standard):
22.025-22.040 mm (0.8671-0.8677 in)
Piston pin diameter:
22.002-22.011 mm (0.8662-0.8666 in)
Side clearance (Second):
0.085-0.112 mm (0.0033-0.0044 in)
Side clearance (Oil):
0.020-0.055 mm (0.0008-0.0022 in)
Ring end gap (Top):
0.300-0.450 mm (0.0118-0.0177 in)
Ring end gap (Second):
0.300-0.450 mm (0.0118-0.0177 in)
Ring end gap (Oil):
0.250-0.400 mm (0.0098-0.0157 in)
Crankshaft main journal diameter:
1-2: 47.934-47.950 mm (1.8872-1.8878 in)
3: 51.921-51.940 mm (2.0442-2.0448 in)
Crankpin journal diameter:
39.959-39.975 mm (1.5732-1.5738 in)
Crankshaft center distance:
36.8 mm (1.45 in)
Cylinder head
Valve arrangement:
SOHC, gear drive
Valves:
2 (6 valves in total)
Valve head diameter (INTAKE):
33.0 mm (1.3 in)
Valve head diameter (EXHAUST):
27.0 mm (1.06 in)
Valve steam diameter (INTAKE):
6.960-6.975 mm (0.274-0.2746 in)
Valve steam diameter (EXHAUST):
6.960-6.975 mm (0.274-0.2746 in)
Valve length (INTAKE):
101.5 mm (3.99 in)
Valve length (EXHAUST):
101.5 mm (3.99 in)
Valve spring free length (INTAKE):
37.0-37.5 mm (1.4567-1.4764 in)
Valve spring free length (EXHAUST):
37.0-37.5 mm (1.4567-1.4764 in)
Camshaft lobe height (INTAKE):
28.80 mm (1.1339 in)
Camshaft lobe height (EXHAUST):
29.00 mm (1.1417 in)
Camshaft journal diameter :
35.934-35.950 mm (1.4147-1.4154 in)
Timing Gear
Crank Gear to Idle Gear 1 (backlash):
0.0320-0.115 mm (0.00126-0.00452 in)
Idle Gear 1 to Cam Gear (backlash):
0.0360-0.114 mm (0.00142-0.00448 in)
Idle Gear 1 to Injection Pump Gear (backlash):
0.0340-0.116 mm (0.00134-0.00456 in)
Idle Gear 1 to Idle Gear 2 (backlash):
0.0330-0.117 mm (0.00130-0.00460 in)
Idle Gear 2 to Governor Gear (backlash):
0.0300-0.117 mm (0.00119-0.00460 in)
Tightening torque
Tightening torque specs
Cylinder head cover screw (M7x1.0):
6.9-8.8 Nm (5.1-6.5 lb-ft)
Cylinder head screw (M10x1.25):
63.7-68.6 Nm (47.0-50.6 lb-ft)
Main bearing case screw 1 (M8x1.25):
29.4-34.3 Nm (21.7-25.3 lb-ft)
Main bearing case screw 2 (M9x1.25):
49.0-53.9 Nm (36.2-39.8 lb-ft)
Flywheel screw (M10x1.25):
53.9-58.8 Nm (39.8-43.4 lb-ft)
Connecting rod screw (M8x1.0):
41.2-46.1 Nm (30.4-34.0 lb-ft)
Rocker arm bracket nuts (M7x1.0):
21.6-26.5 Nm (15.9-19.5 lb-ft)
Service Data
Engine
Idle speed:
900 rpm
Maximum speed:
3,000-3,800 rpm (depending on modification)
Cylinder compression:
D1105-B(E): 2.84 to 3.23 MPa, 29.0 to 33.0 kgf/cm2, 412 to 469 psi
D1105-E2B,-E3B,-E4B: 3.73 to 4.11 MPa, 38.0 to 42.0 kgf/cm2, 541 to 597 psi
Valve clearance
Intake valve clearance:
0.145-0.185 mm (0.0057-0.0073 in)
Exhaust valve clearance:
0.145-0.185 mm (0.0057-0.0073 in)
Oil system
Lubrication system:
Forced lubrication by trochoid pump
Oil type:
CF or higher
Recommended oil:
SAE 10W-30, 10W-40
Oil capacity:
101 mm: 4.0 L (4.23 US. qt, 3.52 Imp. qt.)
125 mm: 5.1 L (5.40 US. qt, 4.50 Imp. qt.)
Oil pressure:
At idle speed: 49 MPa (0.5 kgf/cm2, 7 psi)
At rated speed: 196 to 441 MPa (2.0-4.5 kgf/cm2, 28 to 64 psi)
Oil filter:
Full flow paper filter (Cartridge type)
Oil pressure indicating:
Electrical type switch
Oil and oil filter change interval:
Every 200 hours
Fuel system
Fuel injection pump:
Bosch MD type mini fuel injection pump
Injection nozzle:
Mini Nozzle (DNOPD)
Firing order:
1-2-3
Injection pressure:
13.73 to 14.70 MPa; 140.0 to 150.0 kgf/cm2; 1992 to 2133 psi
Applications
Manufacturer or Brand
Models
Tractors
Kubota
B26, B1241, B2201, B2231, B2350, B2410, B2530, B2601, B2620, B2630, B7610
Lawn tractors
Kubota
F2400, F2560, F2690
Zero-turn mowers
Kubota
ZD28, ZD1211