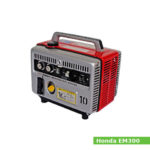 The Honda EM300 is AC/DC portable generator with 360 VA of maximum power and 300 0VA of rated power and 50 Hz/60Hz of rated frequency. The EM300 generator is available with 115/230 V rated voltage (A-type), 220V only (E type) or 240 V only (U types).
The direct current terminals can be used for charging 12-volt automotive type batteries only.
The Honda EM300 generator uses a single-cylinder gasoline engine (55.4 cc; 3.38 cu.in.). The engine has a side-valve (L-head) design flywheel magneto ignition system. Cylinder bore and the piston stroke are 42.0 mm (1.65 in) and 40.0 mm (1.57 in), respectively. Compression ratio rating is 5.5:1.
General information
Generator Specifications
Model
Honda EM300
Dimensions (L x W x H):
355 x 260 x 310 mm (14.0 x 10.2 x 12.2 in)
Dry weight
18.0 kg (39.7 lbs)
Type A
AC Rated voltage:
115V
AC Rated output:
250 VA (2.2 A)
300 VA (2.6 A)
AC Maximum output:
300 VA
360 VA
Rated frequency:
50 Hz
60 Hz
DC output:
12V up to 7A
Type E
AC Rated voltage:
220V
AC Rated output:
250 VA (1.2 A)
300 VA (1.4 A)
AC Maximum output:
300 VA
360 VA
Rated frequency:
50 Hz
60 Hz
DC output:
12V up to 7A
Type U
AC Rated voltage:
240V
AC Rated output:
250 VA (1.1 A)
AC Maximum output:
300 VA
Rated frequency:
50 Hz
DC output:
12V up to 7A
Fuel tank capacity
2.0 L (0.53 US gal, 0.43 Imp gal)
Engine
Displacement
55.4 cm3 (3.38 cu-in)
Bore x stroke
42.0 x 40.0 mm (1.65 x 1.57 in)
Max. horsepower
–
Max. torque
–
Carburetor
Horizontal type, butterfly valve
Cooling system
Forced-air
Ignition system
Transistorized magneto ignition
Lubricating system
Splash
Starting system
Recoil starter
Stoping system
Ignition primary circuit ground
Fuel used
Unleaded gasoline (octane number 86 or higher)
Maintenance data
Oil system
Oil type
Honda 4-stroke "SE"
Recommended oil
10W-30
Oil capacity
0.3 L (0.32 US pt., 0.26 Imp.qt.)
Ignition system
Spark plug
NGK: CM-6
Spark plug gap
0.4 mm (0.016 in)