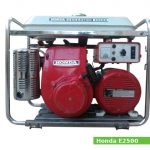 The Honda E2500 is AC/DC portable generator with 2.0 KVA of rated power, 2.5 KVA of maximum output power and 50/60Hz of rated frequency (depending on model). The E2500 generator is available with AC 115V, 220V, 240V or 115V/230V (depending on model). The direct current terminals can be used for charging 12-volt automotive-type batteries only up to 8.3A.
The Honda E2500 generator used the Honda G300 single-cylinder gasoline engine with 272 cm3, (16.6 cu·in) of displacement. The engine has a side-valve (L-head) design, a splash-type lubrication system, and a horizontal carburetor with a butterfly valve and flywheel magneto or CDI (on KA and KE models) ignition systems. The cylinder bore and the piston stroke are 76.0 mm (3.0 in) and 60.0 mm (2.4 in), respectively. The compression ratio rating is 6.5:1.
The engine produced 7.1 PS (5.22 KW; 7.0 HP) at 3,600 rpm of maximum horsepower and 17.4 Nm (1.77 kg·m; 12.84 ft·lb) of peak torque.
General information
Generator Specifications
Model
Honda E2500
Dimensions (L x W x H):
660 x 380 x 550 mm (26.0 x 15.0 x 21.7 in)
Dry weight
64.0 kg (141.1 lbs)
AC Rated voltage:
T,A: 115V
E,G,S: 220V
U: 240V
TD, ED: 115V/230V
AC Rated output:
T,A: 2.0 KVA (17.4A)
E,G,S: 2.0 KVA (9.1A)
U: 2.0 KVA (8.3A)
TD, ED: 2.0 KVA (17.4A/87A)
AC Maximum output:
2.5 KVA
Rated frequency:
T,E,G,U, TD, ED: 50 Hz;
A,S: 60 Hz
DC output:
12V up to 8.3A
Fuel tank capacity
9.2 liters (2.4 US gal, 2 Imp. gal)
Engine
Model
Honda G300
Displacement
272 cm3 (16.6 cu-in)
Bore x stroke
76.0 x 60.0 mm (3.0 x 2.4 in)
Max. horsepower
7.1 PS (5.22 KW; 7.0 HP) at 3,600 rpm
Rated power
17.4 Nm (1.77 kg·m; 12.84 ft·lb)
Carburetor
Horizontal type, butterfly valve
Cooling system
Forced-air
Ignition system
Flywheel magneto ignition or CDI (KA and KE models)
Lubricating system
Splash
Starting system
Recoil starter
Stoping system
Ignition primary circuit ground
Fuel used
Unleaded gasoline (octane number 86 or higher)
Maintenance data
Cylinder compression:
5.3 kg/cm2 (75 psi)
Valve clearance
Intake valve clearance:
0.08-0.16 mm (0.0031-0.0063 in)
Exhaust valve clearance:
0.11-0.19 mm (0.0043-0.0075 in)
Oil system
Lubrication system:
Splash
Oil type:
Honda 4-stroke "SE"
Recommended oil:
SAE 10W-40
Oil capacity:
1.2 L (1.27 US. qt, 1.06 Imp. qt.)
Fuel system
Type:
Horizontal type carburetor with butterfly valve
Main jet:
#88
Float height:
8.2 mm (0.3228 in)
Ignition system
Type:
Transistorized magneto or contact point breaker (CDI)
Ignition timing:
Magneto ignition: 20° B.T.D.C.
The CDI type does not require adjustment
Spark plug:
Magneto ignition: NGK B4H, BR4HS
CDI ignition: NGK BP4HS-10, BPR4HS-10
Spark plug gap:
Magneto ignition: 0.6-0.7 mm (0.0236-0.0276 in)
CDI ignition: 0.9-0.10 mm (0.0350-0.0390 in)