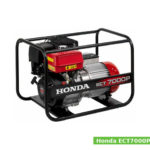 The Honda ECT7000P is a single/three-phase AC 234/400V portable generator with 7.0 kVA (cosφ=0.8) of maximum power and 50 Hz of rated frequency. The generator is equipped with an AVR (Auto Voltage Regulator). The voltage need not be adjusted if the frequency is adjusted property.
The Honda ECT7000P generator uses single-cylinder (inclined by 25°) Honda GX390 T1 gasoline engine (389 cc; 23.7 cu.in.). The Honda GX390 K1 has overhead valve design, single-cylinder inclined by 25°, transistorized magneto ignition system and horizontal carburetor with a butterfly valve.
Bore and stroke are 88.0 mm (3.46 in) and 64.0 mm (2.52 in), respectively. Compression ratio rating is 8.0:1. The GX390 produced 13.0 HP (10.0 kW) at 3,600 rpm of maximum horsepower and 27 Nm (2.7 kg·m, 20.0 ft·lb) at 2,500 rpm of torque.
General information
Generator Specifications
Model
Honda ECT7000P
Type
F, GV, IT
Phase
Single
Three-phase
Dimensions (L x W x H):
800 x 550 x 540 mm (31.5 x 21.7 x 21.3 in)
Dry weight (without tines)
77.0 kg (169.8 lbs)
AC Rated voltage:
230V
400V
AC Rated output:
3.6 kVA (cosφ=1.0)
6.5 kVA (cosφ=0.8)
AC Maximum output:
4.0 kVA (cosφ=1.0)
7.0 kVA (cosφ=0.8)
Rated frequency:
50 Hz
Rated current:
16 A (cosφ=1.0)
9.5 A (cosφ=0.8)
DC output:
–
Fuel tank capacity
6.3 L
Engine
Engine model
Honda GX390 T1
Displacement
389 cm3 (23.7 cu-in)
Bore x stroke
88.0 x 64.0 mm (3.46 x 2.52 in)
Max. horsepower
13.0 HP (10.0 kW) at 3,600 rpm
Max. torque
27 Nm (2.7 kg·m, 20.0 ft·lb) at 2,500 rpm
Carburetor
Horizontal type, butterfly valve
Cooling system
Forced-air
Ignition system
Transistorized magneto ignition
Lubricating system
Splash
Starting system
Recoil starter
Stoping system
Ignition primary circuit ground
Fuel used
Unleaded gasoline (octane number 86 or higher)
Maintenance data
Engine
Maximum speed
3,850 ± 150 rpm
Idle speed
1,400 ± 150 rpm
Cylinder compression
6.0-8.5 kg/cm2 (85-121 psi, 0.59 – 0.83 MPa) at 600 rpm
Valve clearance
Intake valve
0.15 ± 0.02 (0.006 ± 0.001)
Exhaust valve
0.20 ± 0.02 (0.008 ± 0.001)
Oil system
Oil type
Honda 4-stroke or an equivalent (SE or later)
Recommended oil
SAE 10W-30
Oil capacity
1.1 L (1.16 US gal, 0.97 lmp qt)
Ignition system
Ignition timing
B.T.D.C. 25° (Fixed)
Spark plug
NGK: BP6ES, BPR6ES
DENSO: W20EP-U, W20EPR-U
Spark plug gap
0.7-0.8 mm (0.028-0.031 in)